Yes, as an alternative to taskkill, you can still terminate applications, programs APPs, ... on Windows 11 with this small process terminator!
Even with the latest
 Microsoft Windows 11
 you can use the alternative tool to force close / exit Windows applications, APPs, ... It is suitable for all Windows OS from Windows 2000 to MS
Windows 11
and Microsoft's Windows Server 2022, 2019, 2016, .... you don't have to do without this simple way of terminating of Windows programs on any Windows PC!
1.) Simple example of Process KO on MS Windows 11!
1. Download the ► ... Terminator process for Windows 11

2. Open the zip folder / archive in Windows 11, .. Download folder

3. If necessary, place it on the desktop
(you can place the tool in any folder save)

4. Start the ProcessKO

Continue with: ► Options in the alternative Process Killer under Windows 11

(... see Image-1 Point 1 to 4) 



(Image-1) APPs, applications continue to terminate on Windows 11!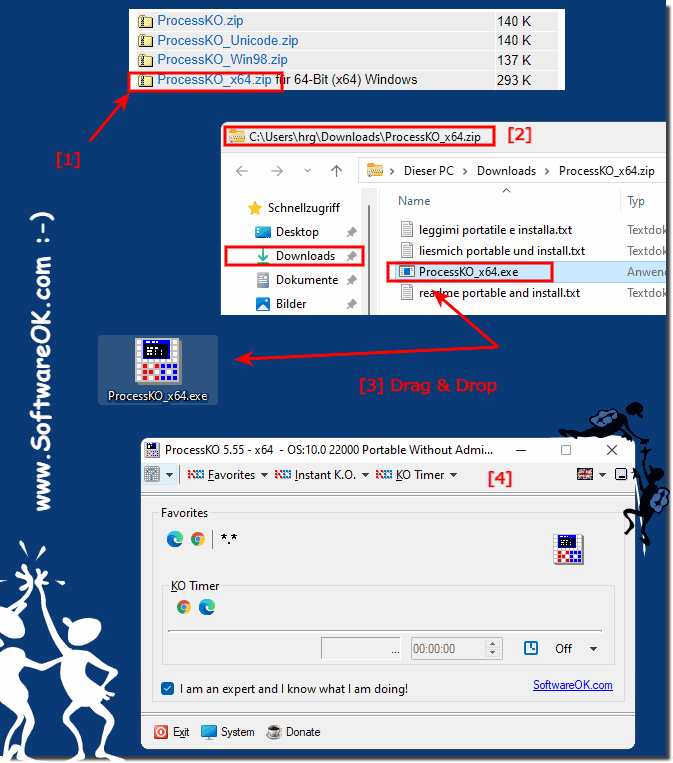 2.) Options in Process KO to terminate applications under Windows 11!
All options in the alternative process terminator are quite clear and self-explanatory. 

The ability to kill programs under Windows 11 and create them as favorites is a practical function, as you can then quickly close via the taskbar menu.

(... see Image-2 Point 1 to 5) 

The Timer Toolbar is a kind of time interval for closing applications that are repeatedly closed after a certain time!

►►  KO timer more options for the process and APP killer !



(Image-2) Terminate applications directly or time-controlled on Windows 11!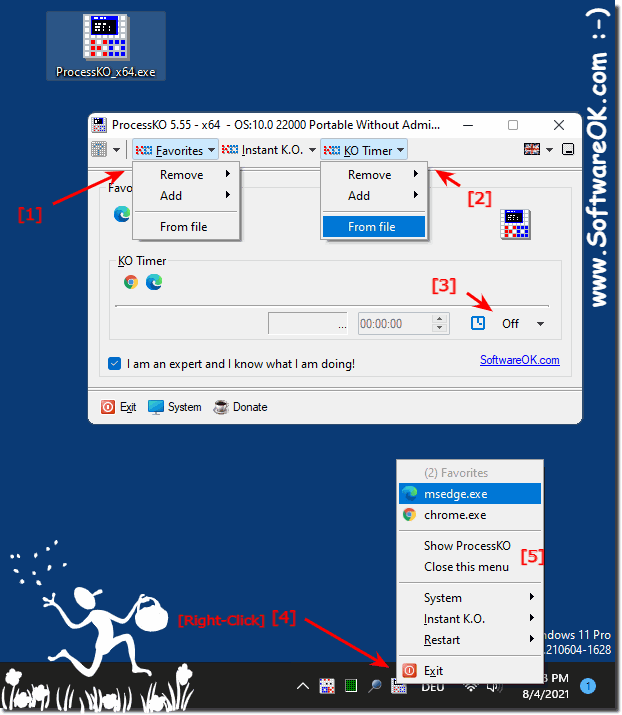 3.) 
... What should I watch out for when killing applications on MS Windows 11 OS?


There is nothing great to consider when exiting programs on Windows 11, except that it is very simple and that unsaved settings and data in the corresponding program, application, ... will be lost. However, this is not so relevant if the program hangs anyway and can no longer be used because it is frozen. 

You can also use the menu in the notification area of ​​Windows 11, 10, ... to restart programs!

(... see Image-3 Point 1 to 3) 





(Image-3) Restart programs from the Windows 11 taskbar!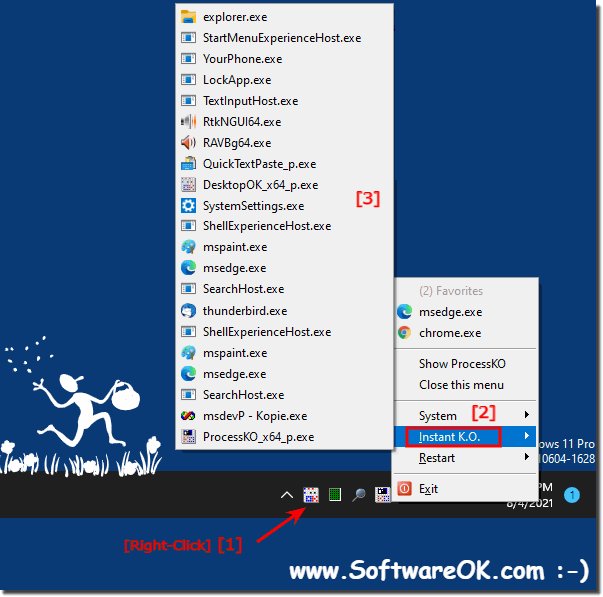 FAQ 13: Updated on: 28 August 2023 12:18