You can use the old Windows calculator under MS Windows 11, but you have to copy it from the old Windows!
However, there is the Microsoft Calculator Plus, which is identical to the old Windows calculator! Install the Microsoft Pocket Calculator Plus after the download: ►► 
... Download Calculator Plus
! After the installation, start Pocket Calculator Plus via Windows 11 Start, or open the directory: 
C:\Program Files (x86)\Microsoft Calculator Plus\
 Now you just have to switch it to Classic. And you already have a classic calculator for your new Windows 11.
Info:
It is also practical to create the desktop shortcut, so the old Windows pocket calculator can be reached immediately, and the new Windows 11 pocket calculator does not give you any headaches. 
(
... see Image-1 Point 1 to 6
)
If you want to use the new pocket calculator on Windows 11, simply enter the keyboard shortcut Windows + Q and
"calculator"
and simply test both at the same time!
(Image-1) Use the old Windows Calculator on MS Windows 11!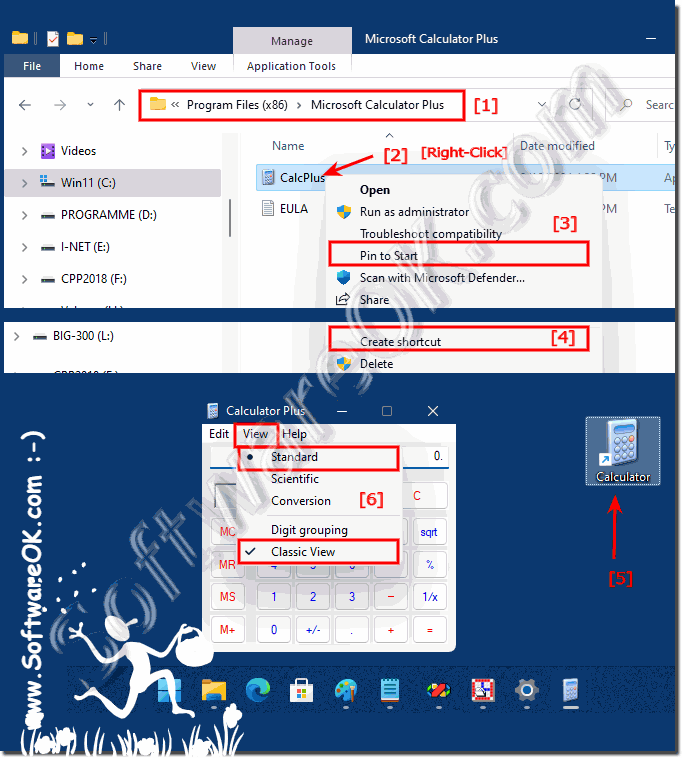 FAQ 41: Updated on: 26 August 2023 06:38