From Version 4.41 more options for the Process and APP Terminator, for new APPs Os Windows 11 / 10 / 8.1 and for Last Windows Desktop OS W10, 8.1, 7!
1.) Processes terminator and the time interval on Windows 11, 10, ... etc.! 
The Process KO Timer to terminate the Windows Apps and Programs in a Timer time loop, easy activate via the Timer Button in ProcessKO. (... see Image-1)




(Image-1) KO Timer for the Process and APP Terminator on Windows-10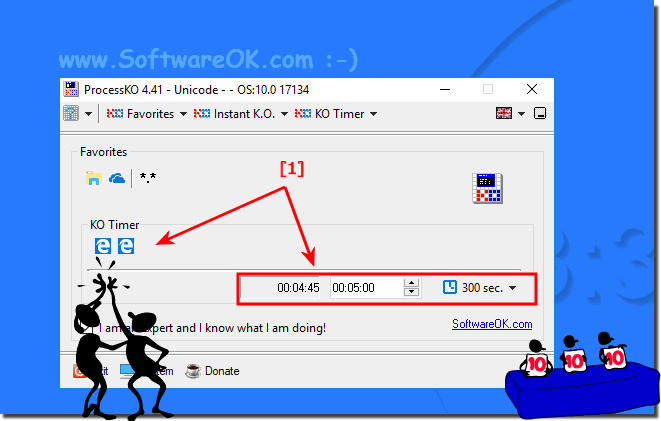 User request, Make ProcessKO great again ;-)


ProcessKO is one off the awesome applications I have ever seen!!
However, could you please add more options in the field of "KO Timer", please?
The max number is 7200 seconds now; nevertheless, I will need more time.
Could you please add more options, such as 4 hours, 8 hours, and 12 hours, please?
Furthermore, you can add the editable range for this field for users to change it by themselves.

Thanks in advance.
......

2.) Add programs to ProcessKO Time for Windows 11, 10, ... etc.! 
It's easy to add more programs to the ProcessKO internal timer. Just click on the "KO Timer" button ► Add ► .. and add the program to be closed! 



(Image-2) KO Timer for Programs and APP Terminator on Windows!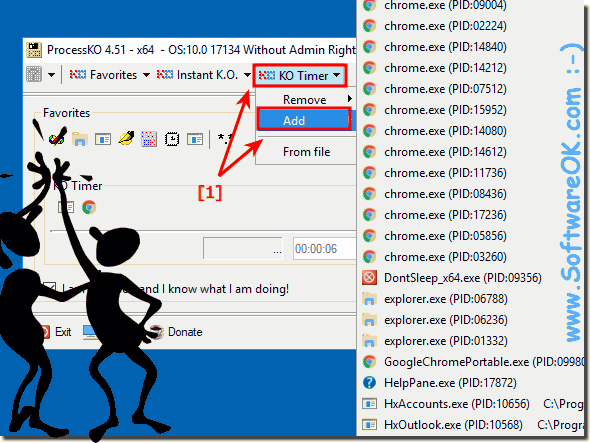 3.) For what time interval to do processes kill on Windows 11, 10, ... and MS Server OS? 

Some programs run in the background after a while, but the user wanted to be able to close down certain background programs and time-controlled applications at certain intervals. However, if you do not need this feature you do not need to use it, it is optional like the program itself and can be quit anytime.


4.) ... Isn't it dangerous when cyber criminals manipulate ProcessKO?
User question: 
Your software is so great! But there is a problem when I add exes to the KO Timer Blocker for 2 seconds and the California cyber criminals added the same software from ProcessKO to the KO Timer Blocker! So I wouldn't be able to use it. I had to keep removing it. Please repair and secure
.
Answer:
Cyber ​​criminals do not need a ProcessKO, cyber criminals can do it without ProcessKO - it is less time-consuming. The computer should have virus protection and malware protection! 
FAQ 7: Updated on: 19 September 2021 17:49