Does this mean you cannot uninstall the file manage program from Windows, or?


Content:


1.) Once Q-Dir, always Q-Dir!
No :-)
You can uninstall the program (Q-Dir) everytime. 
It's a joke: this program makes addictive. 


And Q-Dir is Freeware, of course no mater whether it is Windows 10 or Windows 8.1 or other.




See also:
► How can i switch address bar to classic in each Explorer!
► How can I change the favorites folder?
► How do i use the Q-Dir internal file association rules for example the famous 7-Zip?


►

 I do forward and back-navigation, lost the selected objects?

► The Quad-Explorer for Windows Tips? ► The Quad-Explorer FAQ



(Image-1) The Quad-Directory Explorer for Windows!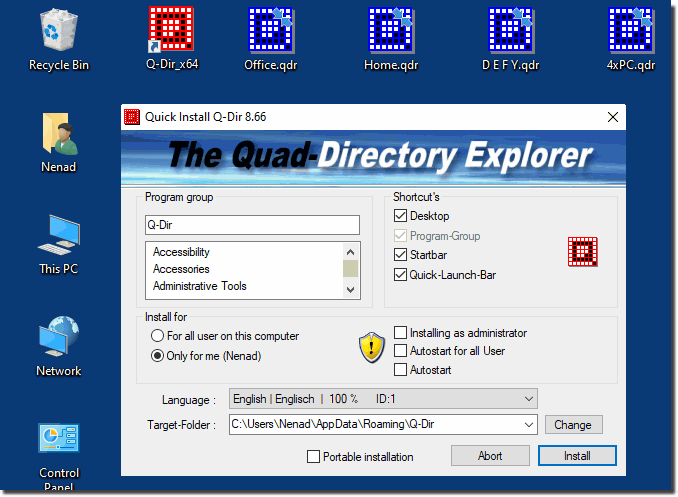 2.) Is Quad-File-Explorer it really that good?
"Once Q-Dir, always Q-Dir" seems to be a phrase expressing a strong preference or loyalty towards a software called Q-Dir. Q-Dir is a freeware file management software for Windows that allows users to organize and navigate through their files and folders in a more efficient way. If you have a positive experience with Q-Dir, the phrase suggests that you'll continue using it and perhaps recommend it to others. It's not uncommon for users to develop a strong attachment to certain software tools that meet their specific needs and preferences.


The quality of software often depends on the individual needs and preferences of a user. Q-Dir is a file management software for Windows that has received positive reviews from many users. Here are some reasons why people might like Q-Dir:

Multiple Window Views: Q-Dir allows users to open multiple window views at the same time, making it easier to organize and transfer files.

Customizable Layouts: Users can customize Q-Dir's layout to their liking, creating a user interface that suits their needs.

Free: Q-Dir is freeware, meaning it can be used for free without incurring any costs.

Lightweight application: Q-Dir is relatively lightweight and does not require much system resources.

However, the evaluation of software can depend heavily on individual requirements and expectations. Some users may prefer other file managers depending on their specific needs. If you're curious, you could try Q-Dir yourself and decide if it suits your needs. It's important to note that opinions about software can vary widely, and what's good for one user may not necessarily be good for another.

FAQ 57: Updated on: 12 November 2023 20:33