Creating a desktop shortcut in Windows 11, 10, ... is one of the simplest things, but not known to every user!


Here in the example just follow the pictures marked with dots and a short description of them, the example is designed so that it can not only be used under Windows 11 or 10, but also in all previous Windows operating systems. The example is very well suited to execute system commands via shortcuts, or to start batch files and programs.

Contents:




1.) Creating the desktop shortcut in example PowerShell ISE!
Please press the Windows key combination Windows Logo + D to see the desktop. 

1. Keyboard shortcut Windows + D to focus the desktop
 
2. Click on a free space on the desktop

3. As always ► New ► create shortcut

4. As target powershell_ise  

5. As name for example  PowerShell ISE

(... see Image-1 Point 1 to 9)




(Image-1) PowerShell ISE desktop shortcut under Windows 11!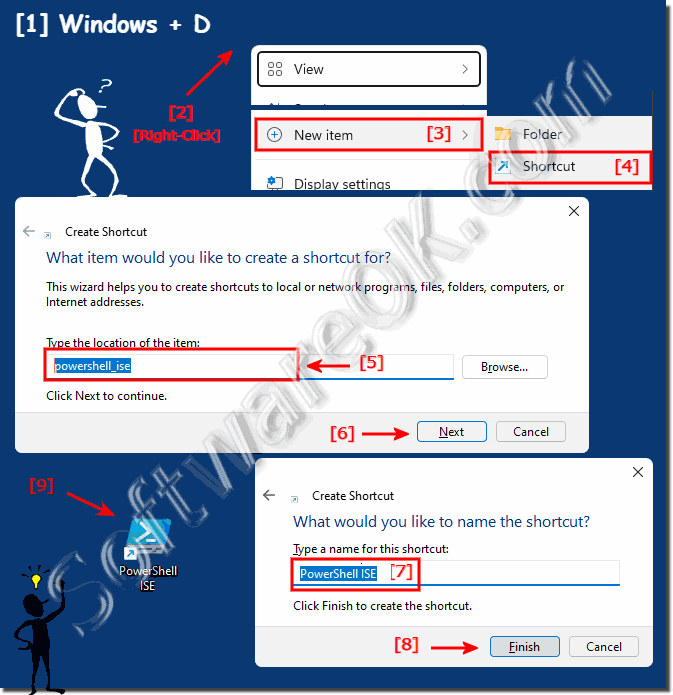 Now assign the name and press finish! You are free to choose the name, but it should preferably be related to the linked object. 



(Image-3) Create a desktop shortcut!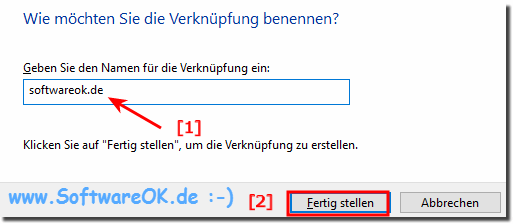 The Windows shortcut is simply a predefined shortcut to an element that is available on your computer or on a network, which can be a program, a file, a folder, a drive, a website, a printer, or another computer . 



2.) Other possibilities to create a desktop shortcut on Windows 11, 10, ...!
3.) What if there are too many shortcuts on the desktop on Windows 11, 10, ...!
The shortcuts for some of the installed programs do not appear on the desktop; this applies to other versions of Windows. Microsoft also sees the desktop less and less as the place from which programs are started. Rather, it is now the new start menu.

It can happen that there are too many shortcuts, but that is not a problem, since the desktop itself is a folder, you can create subfolders and merge related shortcuts.

But you can also use programs like DesktopOK to save desktop icons or symbols to keep things tidy  .



FAQ 93: Updated on: 9 August 2021 08:46