The solution is very simple to create a biometric passport photo yourself, there is a practical freeware program for this!


The program can be found on the page  http://www.passbild-generator.de/ 

Download - Page:
Download: 

Of course you need a color printer and the appropriate photo :-) You may need to print a test page

beforehand!



(Image-1) Take your own biometric passport photo!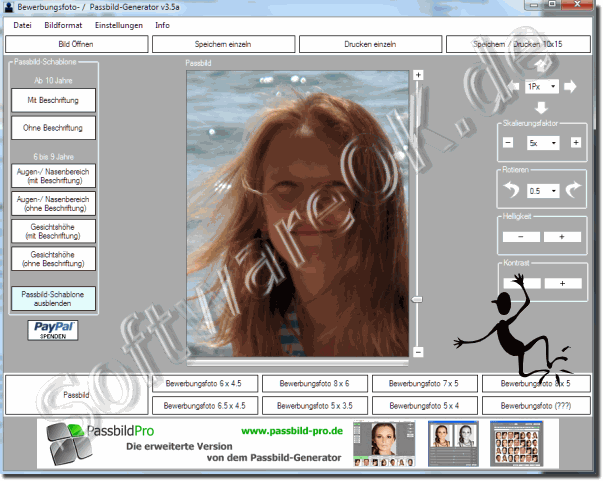 Info:

Yes, not only with Linux, Apple's Mac OS or Google's Android, you can quickly create a biometric passport photo. The elegant solution isn't just written for Windows 7. As you can see from the screenshot taken under Windows 7 above, it is quite easy to create a biometric passport photo. You can use this simple and fast biometric passport photo solution without any problems on older versions of Microsoft's Windows operating systems, regardless of whether it is a Windows desktop, tablet, Surface Pro / Go, or a biometric passport photo even to be created on a server operating system. 





Format: The facial features of the person from the tip of the chin to the hairline, as well as the left and right halves of the face must be clearly shown on the photograph. The photo must be 45mm x 35mm in portrait format and without borders. The height of the face must occupy between 70 and 80 percent of the photograph. Converted to millimeters, it is 32 to 36 millimeters. The face must be centered.

Sharpness and contrast: The face must be sharply depicted, rich in contrast and clear.

Illumination: The face must be evenly illuminated. Reflections and shadows on the face and red eyes are not permitted.

Background: The background must contrast with the face and hair and must be one color. Ideally, neutral gray. The background cannot contain a pattern or shadow. No other people or objects may be on the photo.

Photo quality: The photo should be on high-quality paper with a print resolution of at least 600dpi, especially when taken with a digital camera. The photo must be neutral in color and reproduce the skin tones unadulterated. The photo must not have any contamination or kinks.

Head position and facial expression: The person must be depicted directly from the front. Tilting or turning the head is not permitted. The facial expression must be neutral and the mouth closed.

Eyes and direction of gaze: The gaze must be directed directly into the camera. The eyes must be open and must not be covered by hair or glasses. Exceptions are only allowed for medical reasons that are not only temporary.

Wearers of glasses: The eyes must be clearly visible. The frame of the glasses must not cover the eyes. Reflections on the glasses, tinted glasses or even sunglasses are not allowed.

Headgear: Any kind of headgear is not allowed. Exceptions are permitted, especially for religious reasons. The face must be clearly recognizable from the lower edge of the chin to the forehead, despite the covering. The headgear must not cause any shadow.

Miscellaneous: No uniform parts may be seen on the photos. The scalp hair does not have to be shown in full if the biometrically correct representation requires it. For children up to the age of 10, deviations in the face height are permitted. In the case of infants and small children, deviations in the direction of gaze, head posture and facial expression are also permitted. However, the frontal image is also binding for children.

Application photography

A few common image sizes are built into the program for the application photos. You can also enter your own size using the "Application photo (???)" button. For creative personalities, the function is built-in to design application photos in landscape format. When taking your application photos, please follow the general principles that are often published on the Internet with regard to background, hairstyle, clothing, etc. The effectiveness of the application image is of course very much dependent on the photographer.


Program operation

The program is very easy and intuitive to use. It works on the "What You See Is What You Get" (WYSIWYG) principle.

Open image: To open an image, click on the button labeled "Open image". Navigate to the directory where your photo is saved. Double click on the image file and it will open. Alternatively, you can click once on the image file and click the "Open" button to open the image.

Move picture: You have three options for moving the picture.

- Move with the arrow buttons

- Movement with the arrow keys on the keyboard

- Direct movement of the image with the mouse (very precise positioning possible)

Scaling the picture: You can enlarge and reduce the picture with the plus / minus buttons, with the mouse wheel with the plus / minus buttons on the keyboard and with the slider next to the photo.

Save picture individually: With the button "Save" you can save the finished picture as a JPEG.

Print image individually: You can print the finished image with the "Print" button

FAQ 33: Updated on: 20 November 2020 09:16