Here is the solution how to change the computer name under Windows 10 quickly and easily or workgroup if needed!





It is possible in Windows 10 without much effort to change the host name or rather the computer name on the Windows 10 operating system via advanced system settings in Windows 10. 




Please start the advanced system settings in Windows 10. The quickest way is via Run in Windows 10, open this keyboard shortcut Windows logo key + R. 

In Windows 10 Run just type the command sysdm.cpl!

In the Advanced System Properties simply click on the Change button and change the computer name  if necessary,  you can change your Windows 10 Working Group. (... see Image-1 Arrow 1 to 6)

When you set up (install) Windows 10, Windows 10 automatically creates a workgroup and gives it a name. You can join an existing workgroup or domain on a network or create a new workgroup.

See also: show Program Name in Windows 10 Task-Bar || Windows 10 create / enable guest account ||



(Image-1) Computer name and working group on Windows 10!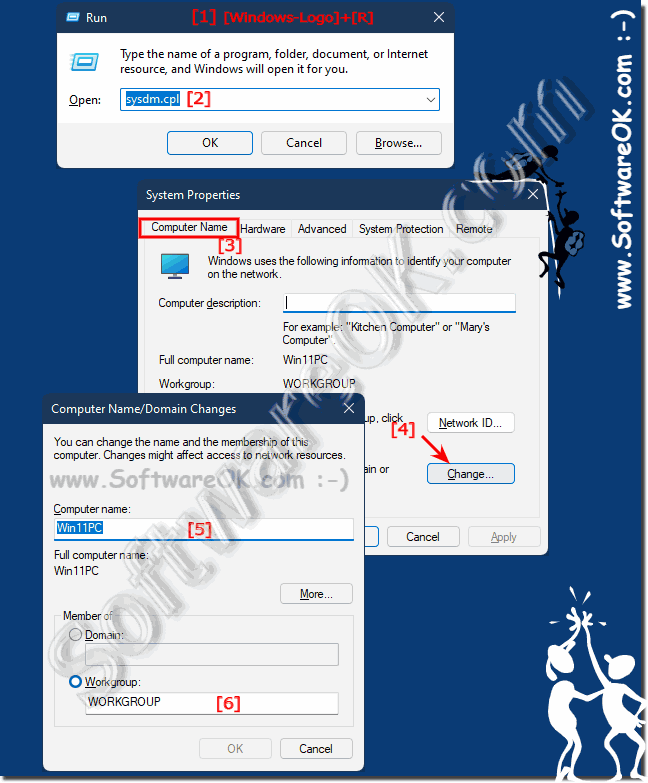 Workgroups Info (c) Microsoft

Windows 10 Workgroups provide a basis for file and printer sharing, but do not actually set up sharing for you. In contrast, in Windows 10 you can create or join a homegroup, which automatically turns on file and printer sharing on home networks. If you have a home network, creating or joining a homegroup. 

If your Windows 10 PC was a member of a domain before you joined the workgroup, it will be removed from the domain and your win 10 computer account on that domain will be disabled. If your network includes computers running Windows XP, you might need to change the workgroup name on those computers to match the workgroup name on the computers running on Windows 10 or Windows Vista so that you can see and connect to all computers on your network.

FAQ 17: Updated on: September 15th 2018 20:13