Change the computer name under Windows 10 or 11 and also the workgroup if needed, here is the solution how to!
1.) Easy change computer name and / or workgroup!
Please start the advanced system settings in Windows 11 / 10. The quickest way is via Run in Windows, open this keyboard shortcut Windows logo key + R. 

In Windows Run just type the command sysdm.cpl!

In the Advanced System Properties simply click on the Change button and change the computer name if necessary, you can change your Windows 10 or 11 Working Group. (... see Image-1 Arrow 1 to 6)

When you set up (install) Windows 10/11, Windows 10 and Windows 11 automatically creates a workgroup and gives it a name. You can join an existing workgroup or domain on a network or create a new workgroup.

See also: show Program Name in Windows 10 Task-Bar || Windows 10/11 create / enable guest account.



(Image-1) Computer name and working group on Windows 10!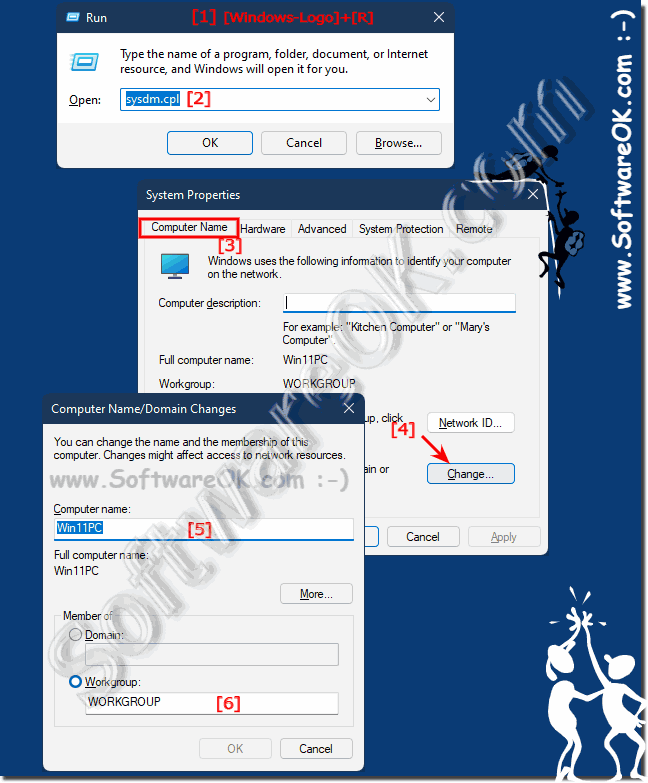 2.) Worth Knowing About Windows 10 / 11 Computer Names in a Network!



The Windows 10 computer on a network should have unique PC names so that computers can recognize each other on the network, To communicate with each other Computer.
 

To avoid problems with older Windows operating systems, it is recommended to use only standard character characters (0-9, AZ and hyphens). (Living Room PC1, Office PC1). Computer names should not just be numbers.

See also: ►  Activate in Windows-10/11 the IIS web server!




(Image-2) The computer name on Windows 10!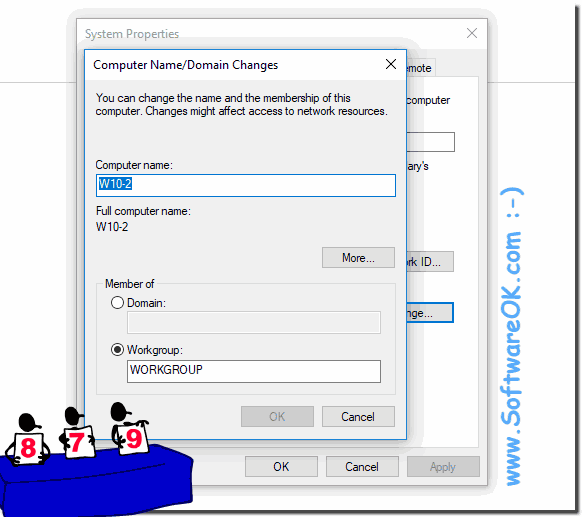 Workgroups Info (c) Microsoft

Windows 10 and 11 Workgroups provide a basis for file and printer sharing, but do not actually set up sharing for you. In contrast, in Windows 10 or 11 you can create or join a homegroup, which automatically turns on file and printer sharing on home networks. If you have a home network, creating or joining a homegroup. 

If your Windows 10 / 11 PC was a member of a domain before you joined the workgroup, it will be removed from the domain and your win 10 computer account on that domain will be disabled. If your network includes computers running Windows XP, you might need to change the workgroup name on those computers to match the workgroup name on the computers running on Windows 10 / 11 or Windows Vista so that you can see and connect to all computers on your network.
3.) Change the computer name on Microsoft Surface Pro / Tablet Mode!
Because with the virtual keyboard with keyboard shortcuts harder on Microsoft Surface and other Windows 10 Tablet PC in tablet mode  when working without a real keyboard. 
1. Open the settings via the "Windows logo button" and type "pc name"  ! 
2. Tap on
"View your PC name"
3. In Right panel scroll to point About and just
"Rename this PC"
(
... see Image-3 Point 1 to 4
)
(Image-3) The computer name on Surface and Windows 10!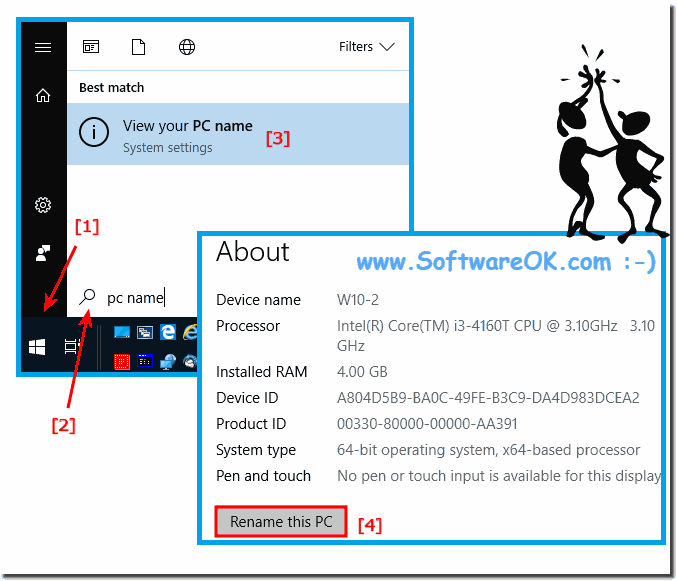 4.) What should I consider when assigning computer names?
Info:
Duplicate computer names cause to problems in the network especially when assigning the IP address, for example on the Router, this can lead to conflicts! 
It is also absolutely safe to change the computer name after installation and even with pre-installed programs, here is the query usually at the start of each program. 
The name of the computer with the name Windows-10 is not so good, better is Win10-PC1, Win10-PC2, Win10-PC3!

It is possible in Windows 10 without much effort to change the host name or rather the computer name on the Windows 10 operating system via advanced system settings in Windows 10. 


5.) Classic information about computer names in a network!
Computers on a network must have unique names so that they can identify and communicate with each other. Computer names should preferably be short (15 characters or less) and easily recognizable.
It is recommended that only Internet Standard characters be used in the computer name. Standard characters are the digits 0 through 9, uppercase and lowercase letters A through Z, and the hyphen (-). Computer names cannot consist of only digits and cannot contain spaces. Also, the name cannot contain special characters such as the following: < > ; : " * + = \ | ? , 
FAQ 17: Updated on: 25 August 2023 11:45