Deleting file or folder via command prompt on MS Windows desktop and server operating systems is a popular solution to delete!


Every once in a while, due to various reasons, one needs to clean up drive and delete duplicate photos, documents, temporary files, shortcuts, videos or other unnecessary or unused files, folders, documents, etc. via Command Prompt.


 

 

Content:



1.) Deleting folders via the command prompt!
Deleting the folder without asking whether it should be deleted with the parameter  /s /q  




C:>rmdir   /s /q C:\folder_path\destination_folder




In this example, the directory with the designation "Target_Folder" is not deleted, but all content (files) without a query or deletion confirmation!




del /q /f /s C:\folder_path\destination_folder




About the parameters 

/q  runs the operation without asking for confirmation,

/f  ignores the read-only attribute and forces deletion

/s  deletes contents from all subfolders



2.) Delete files via the command prompt!
Basically the same as deleting a folder, the parameters can also be used, unless you want to confirm the deletion every time!   





del /q /f /s C:\folder_path\dest_folder\dest_file.txt







3.) Only delete certain files with placeholders using cmd.exe!

In this example, all plain text *.txt files are in the target folder , we use all parameters from the deletion example again, since we are sure that we really want to delete irrevocably!   





del /q /f /s C:\folder_path\destination_folder\*.txt




You can also use *.jpg to delete all images, or *.docx to delete all Word documents, and so on! Wildcards are handy for filtering files! 




4.) What should be considered when deleting via the command prompt!
Users unfamiliar with MS Windows Desktop and Server operating systems should note that deleting a folder or directory will delete all files and folders within that folder or directory.

Restoring the deleted data is hardly possible, sometimes it makes sense to move the data instead of deleting it, for example to an external drive or USB stick, so that you can only delete it when you are absolutely sure.





5.) Why delete the data via the command prompt?

Sometimes it just makes sense and sometimes it is faster to delete data via the command prompt, especially if you are sure that the data is no longer needed.

You can even do it directly from the File Explorer or Quad Explorer address bar , reducing the risk of accidentally deleting the wrong files in the wrong directory.

For example:



cmd /k del /q /f /s *




There is no need to specify the path here if you are in the right folder 




(Image-1) Delete file or folder via the address bar!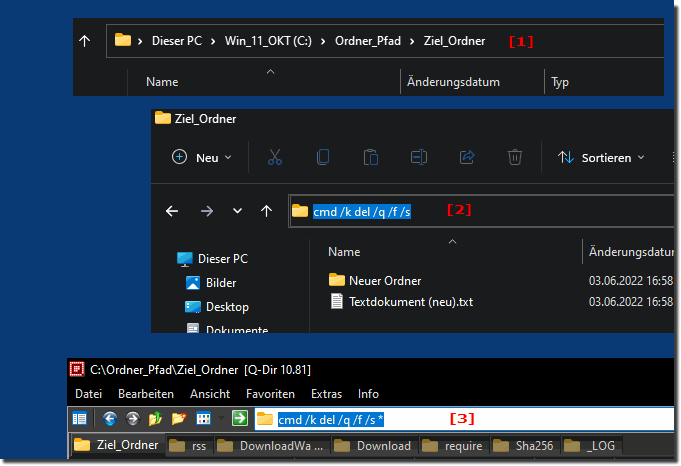 6.) More tips for deleting via the command prompt and ... also different!
FAQ 136: Updated on: 12 October 2022 07:56