There are also in Windows 10 a registry editor, if you for example wants to change registry entries, or edit, it is the
most popular tool in Windows 10

for this task.



Fortunately, the Registry Editor was not removed in Microsoft's newest Windows and can still be used for example to change system settings, that would be otherwise very difficult without changing the registry entries, for some changes on system settings you need

administrative access rights

. This example is also for Windows Server 2016 and 2012.




3.) 

... The folder of the Registry Editor plus desktop shortcut!


4.) 

... Print the Registry or export an import!

See also: || Autostart-Folder in Windows 10 || Windows 10 without Microsoft Live-ID ||  Paint in Windows 10 ||
1.) Start the Windows 10 Registry Editor via the Win-10 Run dialog!
To start the Windows 10 registry editor in Windows 10 is a simple matter, please press the key combination [Win-Logo] + [R], then just enter regedit and confirm! (... see Image-1)



(Image-1) Run windows-10 Registry-Editor !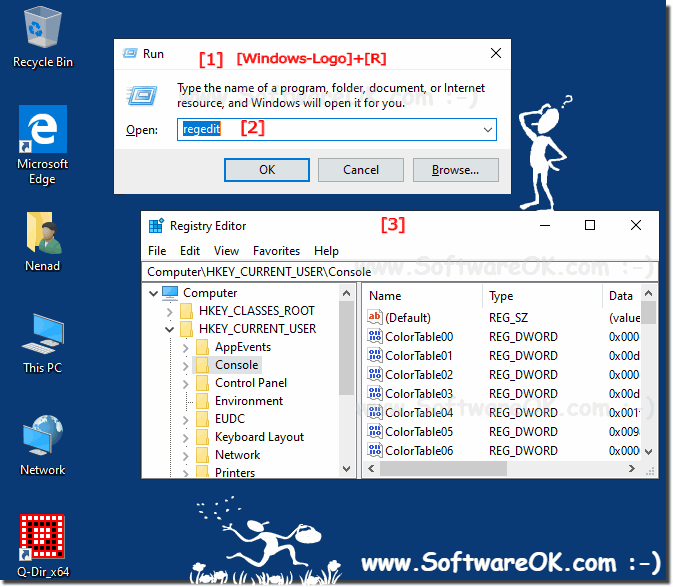 Info: The System configuration information is stored centrally in a hierarchical database called the registry. You can use regedit.exe (Registry Editor) to add, customize, change and edit registry keys and / or values, restore the registry from a backup (*.reg file) or to default values, and to import or export keys for reference or backup. For example via right click on the Registry Folder (Context Menu).


2.) Open the Registry Editor from the Windows 10 search!
Start Windows Search Windows logo + S and enter regedit and start the Windows 10 Registry Editor by simply confirming [ENTER]. (... see Image-2)



(Image-1) Start registry editor via Windows-10 search!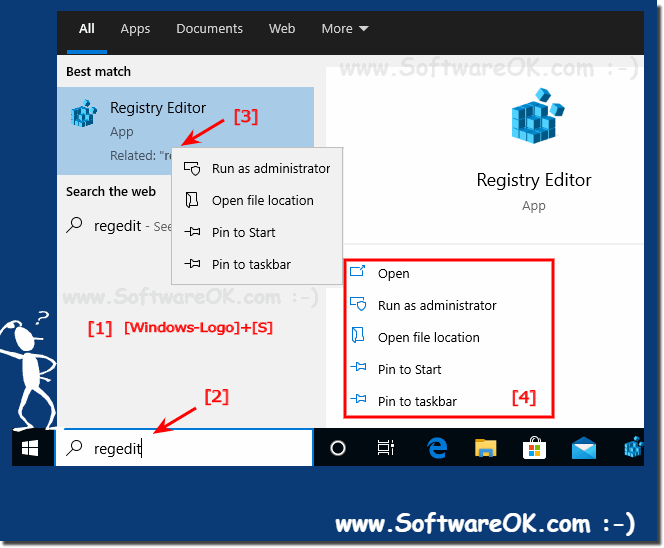 3.) The folder of the Registry Editor plus desktop shortcut!
The Registry Editor (regedit.exe) is located in the folder C:\Windows or %windir%. From here, it is to a lightweight to create via right-mouse drag and drop a desktop shortcut. (... see Image-3)

This solution is for all windows os!




(Image-1) registry editor folder and create desktop shortcut!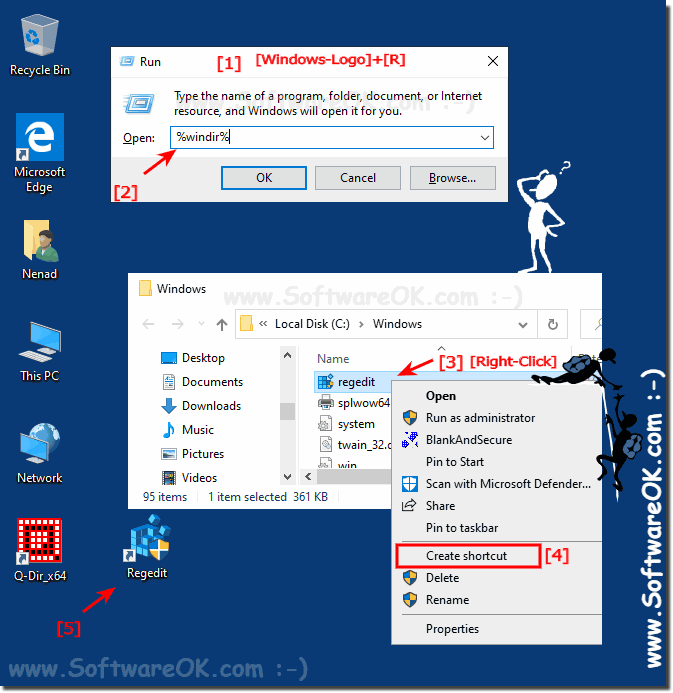 4.) Print the Registry or export import!


Please open the Main Menu "File" (... see Image-4 Point 1 to 4)



(Image-4) registry editor print, export and import keys!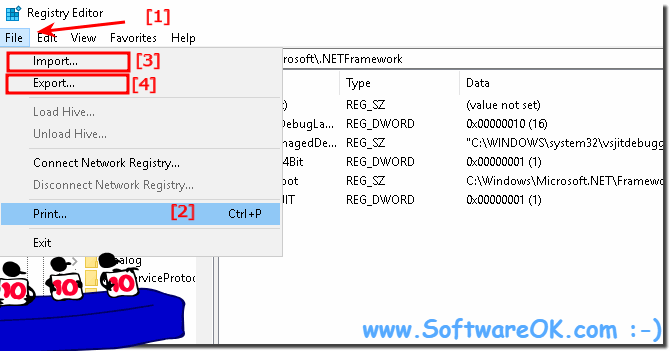 Caution!  
Bad editing and changes in the registry may severely damage your windows system. Before making changes to the registry, you should back up of data on your personal computer.
Note!  
If you make a mistake that results in your PC not starting properly, you can restore the registry.  

FAQ 73: Updated on: 29 May 2019 15:09