Who is customization of the sound for clicking when navigate, he don't wants to miss the navigation click sound in Windows 10!





The solution to activate navigation clicks is very simple on Windows 10, this is also an example for Windows  Server 2016/2012, the click Sound is for many Windows User a very important Acoustic orientation and gives the good feeling that since what happened on the Windows computer!





See also: Where is the Windows 10 Start Sound, Logoff, Logon (enable, activate)?

1.) Enable or Disable the sound of clicking when navigate in Explorer!
Please run through the Windows 10 Control Panel, the sound settings via the Sound icon.

Or directly from the Windows 10 run dialog and command

control /name Microsoft.Sound /page Sounds



Now you can quite easily activate the Windows navigation click sound. (... see Image-1 Arrow 1 to 6)

See also: || navigation area / directory structure in Windows Explorer 10 || The Typing in Windows 10 is slowly ||




(Image-1) Activate Navigation Click-Sound in Windows-10!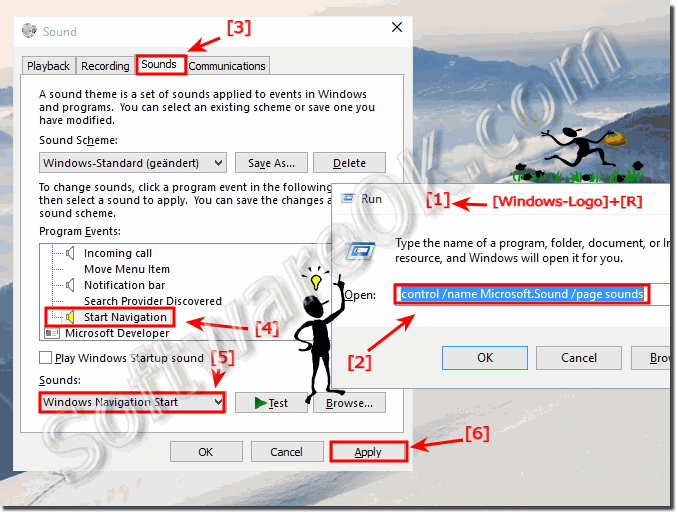 You can easily change the start sound under Windows 10 with just a few clicks, but you must first unlock this option. In this guide will show you the individual! ►  Windows 10 Start Sound registry enable / activate!


2.) Other sounds in Windows 10 / List of Window 10 Sounds!
Windows
Asterisk
Calendar Reminder
Close Program
Critical Battery Alarm
Critical Stop
Default Beep
Desktop Mail Notification
Device Connect
Device Disconnect
Device Failed to Connect
Exclamation
Instant Message Notification
Low Battery Alarm
Maximize
Menu Command
Menu Pop-up
Message Nudge
Minimize
New Fax Notification
New Mail Notification
New Text Message Notification
NFP Completion
NFP Connection
Notification
Open Program
Print Complete
Program Error
Question
Restore Down
Restore Up
Select
Show Toolbar Band
System Notification
Windows Change Theme
Windows User Account Control
File Explorer
Blocked Pop-up Window
Complete Navigation
Empty Recycle Bin
Fax error
Fax sent
Feed Discovered
Incoming call
Move Menu Item
Notification bar
Search Provider Discovered
Start Navigation
Microsoft Developer
Erstellen abgeschlossen
Fehler beim Erstellen
Fehler in Ausgabe
Haltepunkt-Treffer
Warnung beim Erstellen
Warnung in Ausgabe
Windows Speech Recognition
Disambiguation Numbers
Disambiguation Panel
Misrecognition
Off
On
Sleep



This example to play sounds in when opening a folder in windows is also for Windows 10 (Redstone 4 & 5) Pro, Enterprise, Home, Windows 8.1, Windows 8, Windows-Server 2016, 2012, 2008, Windows 7 Basic, Professional, Starter, Ultimate on other OS like MAC is hear also a similar solution like in Windows OS!



FAQ 80: Updated on: 4 November 2019 21:23