When selecting Windows 10 you have the choice between the Windows 10 Home and the Windows 10 Pro version!
There are two most used versions: Windows 10 Home and Windows 10 Pro!
Windows 10 Pro, as the name suggests, is mainly used on professional laptops and computers, while Microsoft's Windows 10 Home version is mainly used on standard systems. But what is the difference between these two versions of Windows 10 one wonders!




The Windows 10 Home Edition:
Is absolutely sufficient for daily work and well suited for standard users and gamers.
The Windows 10 Pro Edition:
Is suitable for power users, developers and company networks. 
The big difference between Windows 10 Home and Windows 10 Pro
is the security of the operating system. Windows 10 Pro is more secure when it comes to protecting your PC and data. In addition, you can join a Windows 10 Pro to a domain, which is not possible with a Windows 10 Home version. Windows 10 Pro also offers useful features like
Remote Desktop
, which allows you to remotely connect to another PC in the office.
Here are key points about Windows 10 Home and Pro
 




Windows 10 Home is comparable to the 

Windows 7 Home Premium

 and the Windows 8 Home version! 

Windows 10 Pro is comparable to: Windows 7 Professional / Ultimate, or the Windows 8.1 Pro version. 

One of the most important differences is that 

no remote desktop

is possible under Windows 10 Home. 


Caution:



If you are using Windows 7 Home Premium, Windows 7 Professional, Windows 7 Ultimate, Windows 8 Pro with Media Center, or Windows 8.1 Pro with Media Center and install Windows 10, Windows Media Center will be removed.

 To play DVDs under Windows 10, separate playback software is required or ►  Windows Media Player  , which may need to be activated. 

Windows 7 desktop gadgets are removed during Windows 10 installation.

 

See also:
Windows Media Center in Windows 10  || Classic Calculator Windows 10  ||  Windows 10 installation time




(Image-1) Windows 10 Home or Pro!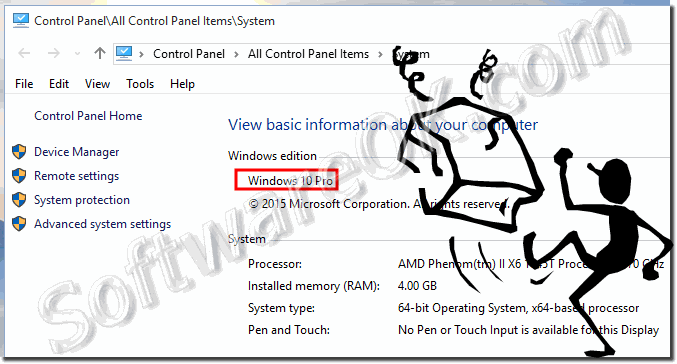 FAQ 87: Updated on: 25 August 2023 12:22