You can easily see the activation status of Windows 11, here are solutions to tell if Windows 11 is activated!





See also:
► Install Windows 10/11 without a product key  ►  Start folder in Windows 11
1.) Recognize the activation status via the Windows 11 settings!
1. 
Windows + i
 key 
2. Now simply  scroll  over
"System"
 ► to  
"Activation"
3. And recognize the activation status
(
... see Image-1 Point 1 to 5
)
PS: At this point you can find the Windows product key 11 change
(Image-1) Check whether Windows 11 is activated, where can I see it?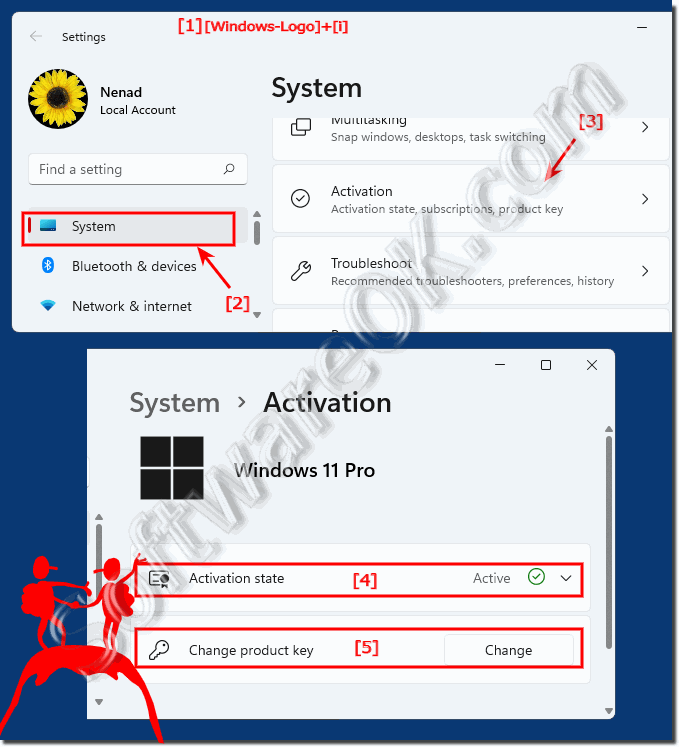 2.) Check via the command prompt whether Windows 11 is activated!
1. Please press the key combination
Windows Logo + R
and enter
cmd
a
2. Now give the command
slmgr /xpr
3. And you can see if your Windows 11 is activated or not
(Image-2) Check via the command prompt is Windows 11 activated!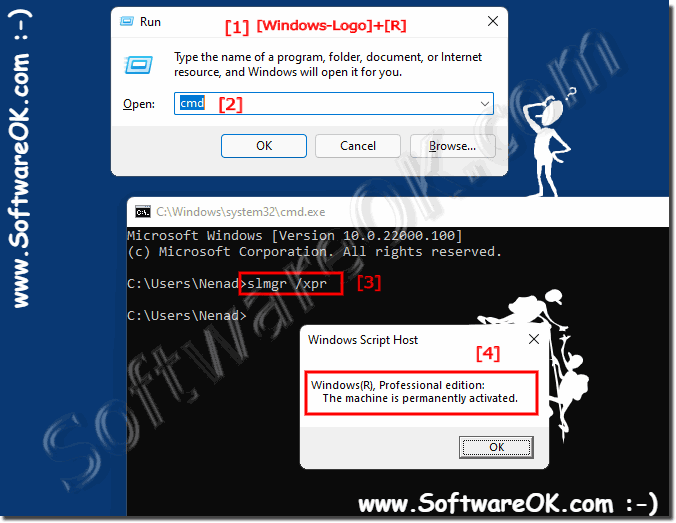 3.) ... Information on Windows 11 activation! 
Once activated, Windows 11 will remain activated, but if you make major changes to your computer hardware, such as changing the configuration of your computer, B. changing your graphics card, motherboard, hard drive, the
license of your Microsoft Windows 11 can be
 deactivated. You can fix this problem by reactivating the license on your computer, you will find examples in this simple FAQ and more links how you can do for
MS Surface Pro and Go
too ! 
4.) ... This is what it looks like if the MS Windows 11 OS is not activated!



( ... see Image-3 ) 

See also:
►  Do I still receive updates if my Windows 11 is not activated!
►  Change background when Windows 11 is not activated!
►  Clear or blurry login background under Windows 11/10!



(Image-3) Windows 11 is not activated, you can see it!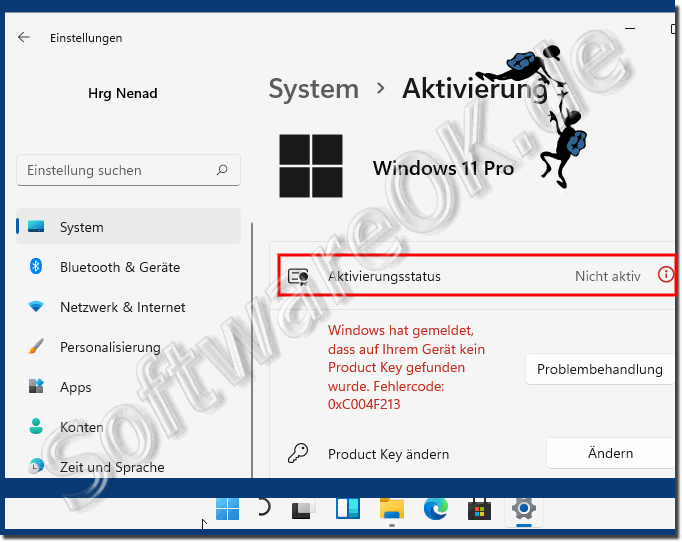 5.) ... Is it advantageous to activate Windows 11?
If you have an official, legal and activated copy of Windows 11, you can use all of your PC's features, such as: B. the adjustment of the display settings. If you are not sure whether your copy is activated, you can easily find out by following the instructions!

It is more advantageous, because you don't have to worry about doing something illegal on the PC in question and you support Microsoft in improving MS Windows 11, which is beneficial for everyone! When you consider what MAC youngsters are spending, the license key costs are a trifle!
FAQ 102: Updated on: 26 August 2023 07:06