Anyone who has the necessary rights can also adjust the respective energy saving plan under Windows 11 in order to save energy!


Everyone probably knows the ►  energy saving mode, balanced and high performance difference,  but you want to adjust the advanced energy saving plan settings, why not if it is possible!



1.) Adjusting the current energy saving plan on Windows 11!
1. Please open the Windows 11 Control Panel as always

2. Key F3 and use energy as the search term

3. Click on the text "Edit power plan"

4. Now directly via "Change advanced power settings"

5. Adjust the current power options

(... see Image-1 Point 1 to 6)




(Image-1) Can I adjust the power plan under Windows 11?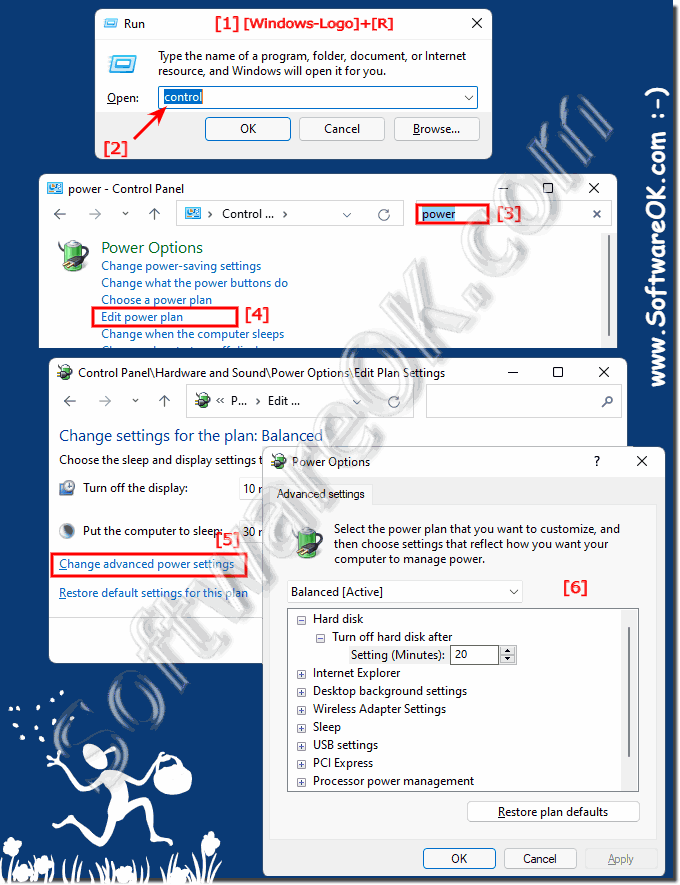 These options give you the ability to monitor and adjust power consumption on your Windows 11 computer to optimize performance and battery life. Depending on your needs, you can adjust power settings to find the desired balance between performance and energy efficiency.




2.) More information about energy / consumption on Windows 11! 

Microsoft is committed to making Windows 11 one of the most energy efficient operating systems on the market. Over the past few years, Microsoft has made a number of improvements to the power efficiency of Windows, including:

- Improved battery life: The battery life of Windows 11 devices has been significantly improved compared to previous versions of Windows.
- Less power consumption when idle: Windows 11 uses less power when idle than previous versions of Windows.
- Improved power management for apps and programs: Windows 11 manages apps and programs in the background more efficiently to reduce power consumption.

The energy consumption of Windows 11 depends on a number of factors, including the device's hardware, the apps and programs installed, and the type of use. However, in general, Windows 11 is more power efficient than previous versions of Windows.

The hardware of the device has a major influence on energy consumption. Devices with powerful processors and graphics cards usually consume more power than devices with less powerful components.

Apps and programs can also influence energy consumption. Apps and programs that run in the background even when not in use can quickly drain the battery.







PS:

This type of energy settings are also available under other operating systems of MS Windows NT systems, which allow the energy-conscious user to adapt their individual energy saving plan and thus always have the best performance settings on their computer in a balanced relationship to energy consumption, which leads to a better one Energy efficiency, which protects the environment and lowers energy consumption.





FAQ 124: Updated on: 13 October 2023 22:00