What can be the cause that Windows 10 / 11 computer does not go into standby and why (also valid for MS Server 2019, ...)!
Some users report that after a few optional updates the problem arises that the computer no longer automatically wants to go into standby, and that the problem arises with the new optional framework update. Regardless of this, you can determine on all Microsoft Windows operating systems whether APPs such as
DontSleep
or
PreventTurnOff are
  the cause!
Content:
1.) Find out what is the reason why standby is prevented under MS Windows OS!
1. Start ►► 
as always MS PowerShell in administrative mode
2. Run the command 
powercfg /requests
3. You can already see whether an
APP or program is preventing standby
(
... see Image-1 Point 1 to 3
)
(Image-1) Windows 10 computer does not go into standby, why?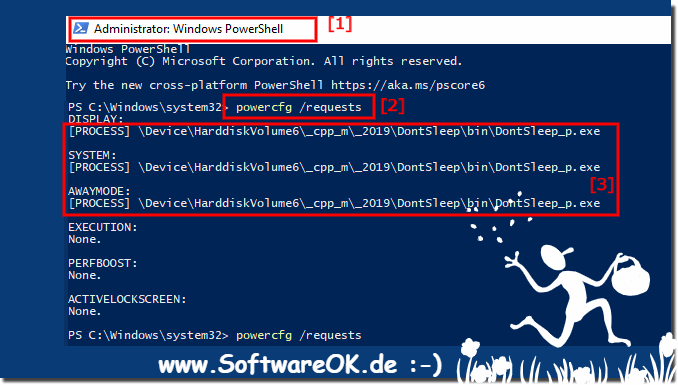 2.) What should I consider and what causes are possible?
Even if it can be caused by applications, the cause is often the wrong driver of a hardware component or peripheral device!