If the "YES" button is not displayed when trying to start in administrative mode, it is a classic administrator account deficiency!

This only happens if you are logged on to Windows 11, 10, ... etc. or MS Server OS with a standard user account and there is no admin account on the system. However, the problem can be solved quite easily by making at least one user the administrator, or by providing your own user account with administrative rights.


1.) The problem with the "YES" button dwindling in admin mode!
Can be fixed easily:






(Image-1) Start administrative mode without the YES button!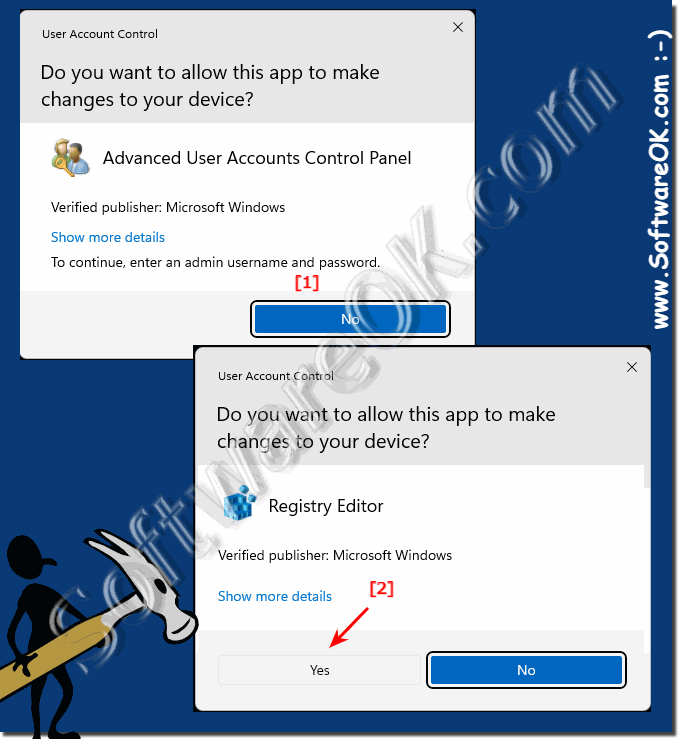 2.) What should I watch out for when executing with administrative rights? 
No admin rights are required for standard tasks!

If a program starts in administrative mode, it requires increased access rights, for example to make system changes and settings, to install drivers, or to install software. This admin account can be a local account with full access to the computer and can make the changes you want. 
This program needs the increased access rights because it is about, for example, system changes and changing settings. This is, for example, the task manager, registry editor, user account management, etc. Without the required increased access rights, these programs cannot do their job. This means that they cannot be started in any other way than in administrative mode with increased access rights.
FAQ 132: Updated on: 26 August 2023 08:21