Quite simply a window
Always in the foreground, minimized to the taskbar

, or set transparency under all Windows OS!

Sometimes, for various reasons, an open window must be displayed over all other applications and windows.

This can be useful for monitoring a particular application or watching a movie while you work or attach the audio player over all the windows.

Windows 11, 10,8.1, ... does not offer a window over other windows.



Unfortunately, more and more old tools fail in this task because they are not further maintained or developed!  
From DesktopOK 6.61 this is quite easy
1. Start
Desktop OK
2. Activate the "Title Bar Alt + R Mouse"  
Now you can access it via the title bar + Alt + R Mouse to bring up windows:
a.
"Always in the foreground" to see 

b. Set transparency
c. or To-Tray in the info area of ​​the taskbar minimize
d. Open Program-Path
<< New in 6.71  
(
... see Image-1 Point 1 to 5
)
(Image-1) Make Always on Top, To-Tray, Transparency for all Windows on 10, 8.1, ...!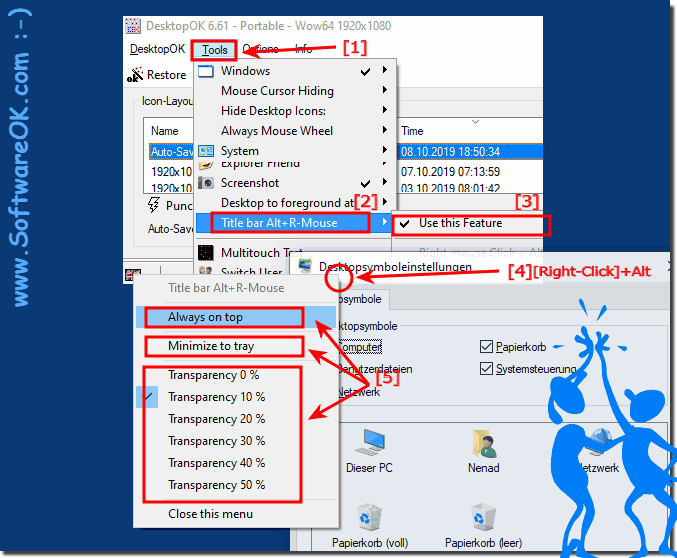 In general, windows can only arrange in cascade tiles, so all windows use the same screen area, but always in the foreground is sometimes very handy, In DesktopOK this is a simple and useful tool with some feature that displays your desired app across all application windows.
Regardless of how many windows you have open, right-click to display all open windows and select the window you want to keep it in the foreground.
You can use this tool to set all required applications to Always On Top.
This is a missing feature in Windows 10, 8.1, .... You can access it via the title bar + Alt + R Mouse.