It's easy to print the content from the library, not just on Windows 11, 10, 8.1, ... and MS Server!
Content / Solution / Tip:
1.) Print file list of libraries!
1. Start
DirPrintOK
2. Navigate to the library folder
3. And print the appropriate file list 
(
... see Image-1 Point 1 to 4
)
Printing directory contents can be so easy
!
(Image-1) Print out the content in the library under Windows 10, 8.1, ...!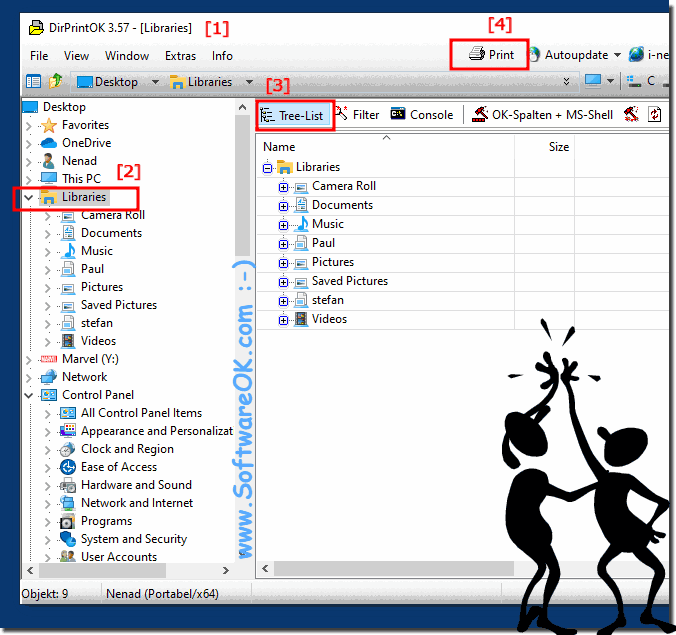 The elegant solution is written for all MS 
Windows operating systems
 if you have
the libraries enabled in Windows 10. 
Although there are libraries in Windows 10 and Windows 8.1, the Print Libraries in File Explorer section is not supported. For many reasons, Microsoft Windows 10 users have the need to print them out. Although they are a useful feature of Windows in the file explorer and in the media content are super show, but you still want the
MP-3, and media tags on a piece of paper
handle and you read:
2.) Why print the media tags of the files?
In DOS, it was so easy to view and print the contents of a directory or directory structure. Although there are over 300 file details about each file in Windows, such as the MP3 ID3 tag. With so much information, a print function is of great benefit here. Exactly for this there is the DirPrintOK, which leaves nothing to be desired;). Uncomplicated and easy to use, like the Windows Explorer, it allows all available file information, contents of drives, directories and directory structures clearly displayed or printed.