If there is a lack of space, one wonders where the system reserved memory is on Windows 11 and 10 and whether it should be deactivated!
Info:

Even if you have very little space on the hard drive, which is not uncommon with small SSDs, you should not deactivate the reserved memory! It is only advisable for Windows experts who have additional system rescue measures ready in an emergency!


1.) Where can I find the reserved memory in the settings?
You want to check whether the reserved memory is also activated, then you can quickly check this at any time under Windows 11 and Windows 10! 
1. Open Settings or press Windows key + i

2. Via "System" scroll on the right side to "Storage"

3. On drive C: simply   scroll ◄◄ to the point "Show more categories" and click on it
(Image-1) The system reserved memory in Windows 11 and 10!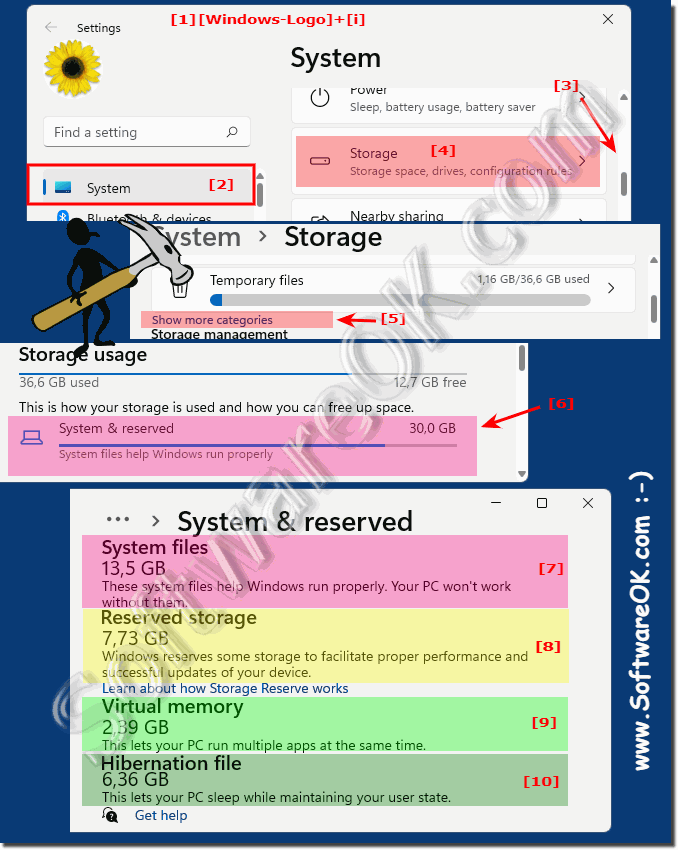 2.) What is the reserved memory for Windows good for?
To ensure that your Windows PC can be updated successfully, and the system can run correctly, MS Windows reserves a space on the hard drive of your PC not only for the temporary files, caches and other files, but also to compensate if the If you run out of memory on your PC, Windows will reduce this reserved memory so that other processes such as Windows Update can be carried out.



Reserving storage space also helps to optimize the disk usage on your device and make it adaptable.

Therefore, you should not deactivate it.





3.) More tips to free up storage space?
Under Windows 11 and 10, there are further options to provide more space on the hard drive without the operating system becoming unstable! 







FAQ 185: Updated on: 26 August 2023 08:06