These are not only hardware printers, but also Fax, Microsoft Print to PDF, Microsoft XPS Document Writer, OneNote and possibly more!




 

Content:

1.) Find the installed printers in Windows 11!
 

Numerous printers can be added or removed over time, causing conflicts and problems. In this article we will show you how to view and manage all current and already installed printers.



Click Start > Settings > Bluetooth and devices > Printers & scanners.


Tips for ►►  printer connection and printing problems on Windows!





(Image-1) All installed printers in windows 11?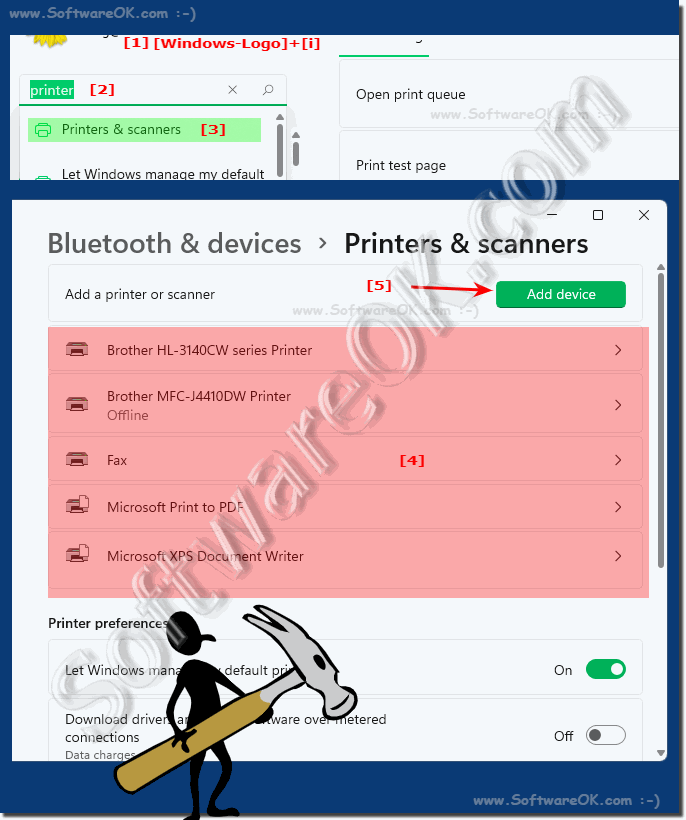 2.) Further options to find/remove all installed Windows 11 printers!

Completely removing printer drivers on Windows 11, 10 is important for several reasons:

System stability: The presence of outdated or faulty printer drivers can affect the stability of the operating system. This can lead to crashes, glitches and other problems.

Avoid conflicts: If multiple printer drivers are installed on the system, conflicts may occur. This may cause the printer to not work properly or not be recognized in Windows.

Security: Some outdated or unofficially downloaded drivers may cause security vulnerabilities in the system. Removing unnecessary drivers can reduce security risks.

Resource Efficiency: Loading unused drivers can cause the system to waste resources. This can impact system performance.

To completely remove printer drivers in Windows 11 or 10, you can follow the steps below:

►►  Has the printer driver been completely removed in Windows 11, 10?




Additionally, to minimize problems and optimize performance, we recommend downloading and installing printer drivers from the printer or device manufacturer's website instead of using outdated drivers from Windows Update or other sources.






3.) Why is it important to know the Windows 11 printers!


It is important to know the printers on Windows 11 and understand the correct printer settings as this can significantly impact efficiency, quality of printed documents and overall usability. Here are some reasons why it is important to know the printers on Windows 11:

Compatibility and Drivers:

Different printer models require different drivers. Installing the right driver for your printer can keep it running smoothly. If you do not identify the printer correctly, compatibility issues may occur.

Print quality:

Choosing the right printer settings such as paper size, print resolution and color options can significantly affect the quality of printed documents. If you do not configure your printer correctly, you may not get the results you want.

Efficiency:

Knowing your printer's capabilities and taking advantage of features like two-sided printing (duplex), multiple paper trays, and automatic document feeders can help you increase efficiency and save time.

Troubleshooting:

If you're having trouble printing, it's important to know how to perform basic diagnostics and troubleshoot simple problems. This includes checking connections, printer queues and driver settings.

Security:

In companies and organizations, it is important to know how the printers are connected to the network as they can pose a potential security risk. Understanding the printer's security features and settings can help you minimize security vulnerabilities.

Resource Efficiency:

If you know your printer's features such as: By using power saving mode or printing in black and white instead of color, you can save resources such as ink/toner and electricity.



About:

Overall, a thorough knowledge of your printers on Windows 11 can help optimize usage, reduce costs, reduce environmental impact, and improve the overall user experience. So it's worth familiarizing yourself with your operating system's printer settings and options to get the most out of your printer.





FAQ 224: Updated on: 30 October 2023 17:50