Share Windows 10/11 folders on the PC so that other users or computers in the network or workgroup can access them!
One can classically control the
Windows 10/11 folder access
, but why not even use the
"Assistant for creating folder shares under Windows 10/11"
 , the elegant solution tip is written not only for
Windows 11 / 10
, this can be safely applied to earlier MS Windows operating systems Whether it's a Windows desktop, tablet, Surface Pro / Go, or even a server operating system.
Start the 
"File Sharing Wizard on Windows 10 and 11"
with the keyboard shortcut

Windows + R

 and the command "shrpubw" and
you're
ready
to go!


The assistant for creating folder releases under Windows 10/11 is self-explanatory you just follow the instructions!

See also: ►►   Is it possible to activate the System Administrator under Windows-11 / 10?



(Image-1) Create A Share via Shared Folder Wizard in Windows 10!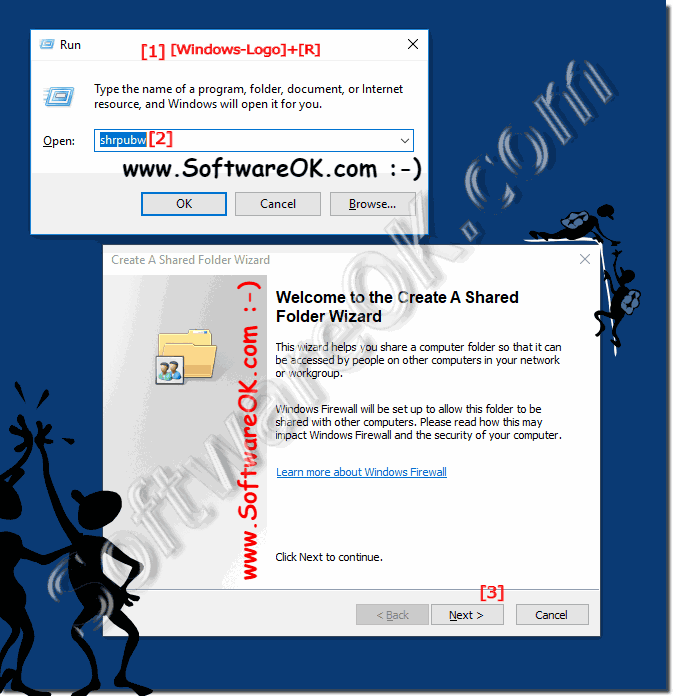 In the third step you have to decide (... see Image-2 Point 1)


Set the permissions for the folder to be shared.


By default, only share permissions are set for this
folder
.
If you want to control the local access permissions for this folder or objects in the folder, click Custom ..., and then change the permissions on the Security tab
to apply specific permissions to the folder.


(Image-2) Permissions for Shared Folder on Windows 10!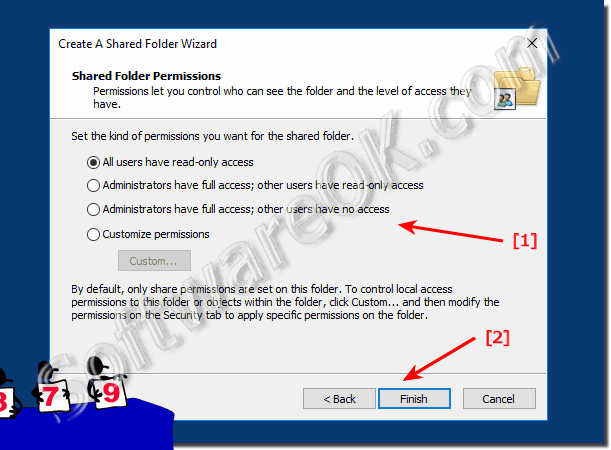 Info:

There are a lot of shares on our machine which have been created by the operating system and are used internally for certain functions, but also releases that you may have already created yourself. These shares are directories ergo folders whose content you can share with others on your network. This makes it very easy to share and share files such as music, videos or project work. The shares defined by the operating system generally refer to hard disks or their partitions. These pre-defined shares make it easier to access an entire disk partition immediately, if desired. Self-created shares are typically individual folders to which you share a property that makes them visible to others on the network (on the home network). By assigning access rights, you can then specify who is allowed to access this share and the data in it.