You can also install the test versions of Windows 11 without TPM , this will not work with the official release of MS Windows 11!
Info:

Windows 11 cannot be installed on some computers due to higher system requirements. You can currently also create a virtual HD image and then use it, but all these possibilities will not work with the official version of MS Windows 11!


I have a 32-bit device. Can I upgrade to Windows 11?
Unfortunately, no! According to MS, many hardware innovations have happened in the PC area since the introduction of Windows 10 six years ago. In order for Windows to move forward and take better advantage of the latest innovations, MS needs to increase the basic system requirements for modern PCs.


Info (c) Microsoft!

If devices do not meet the new hardware requirements, there may be problems and errors that affect the experience of Windows 11 on these PCs and may not be resolved. All Windows Insiders who have already installed builds from the Dev Channel on their PCs by June 24, 2021 are still allowed to install Windows 11 Insider Preview builds, even if their PC does not meet the minimum hardware requirements.


(Image-1) Windows 11 TPM 2.0 Error and Secure Boot!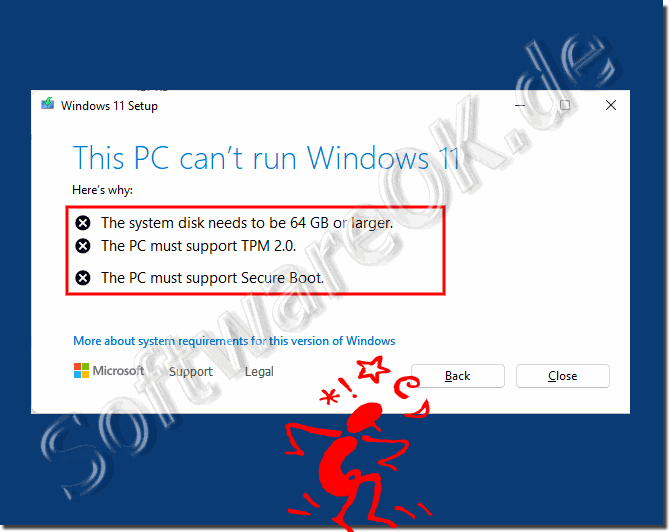 FAQ 57: Updated on: 23 September 2022 18:59