If you find that the XPS viewer is missing in MS Windows 11, don't panic, installing the optional XPS viewer is easy!
Content:
The XPS Viewer, which was automatically available in older versions of Windows, was not installed by default in newer versions of Windows 11. This could be the reason why you can't find the XPS viewer in your current version of Windows.
1.) Install the solution to the Windows 11 XPS Viewer!
1. Open the Windows 11 settings as always (
Windows + i
)
2. Enter
optional
as a term in the search field 
3. Open optional features in Windows 11
4. Now click 
View features
 button
5. In 
Add optional features
window enter 
xps
6. And simply mark the
XPS viewer
and install it with the
Next
button
(
... see Image-1 Point 1 to 7
)
(Image-1) Install XPS viewer in Windows 11!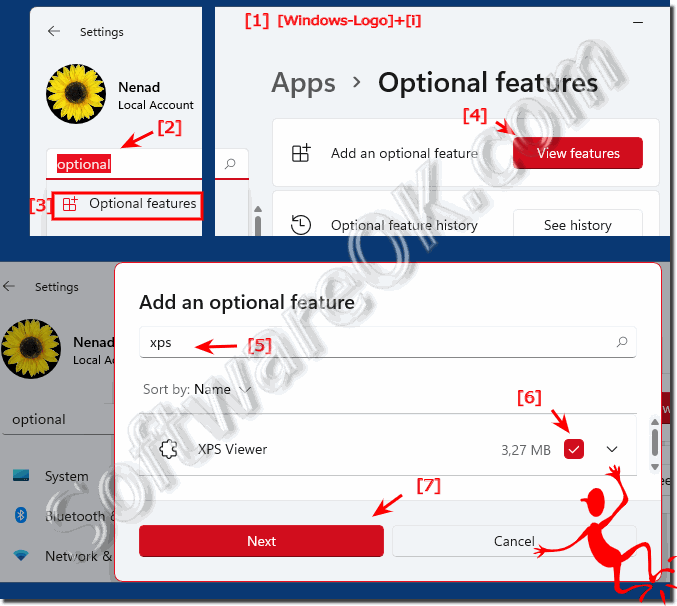 2.) The folder / directory / path to the XPS document viewer!
After: ►
have successfully installed the Windows 11 XPS Viewer 
1. Start the MS File Explorer and
Windows Logo + E
2: Open the directory: 
C: \ Windows \ System32
3.
Scroll
down to
xpsrchvw.exe
The full file path is therefore: 
C:\Windows\System32\xpsrchvw.exe
The XPS documents are saved in My Documents / Documents.
See: ►►►
Find My Documents  folder in Windows 10 and 11 from all users
(Image-2) The XPS viewer full path on Windows 11!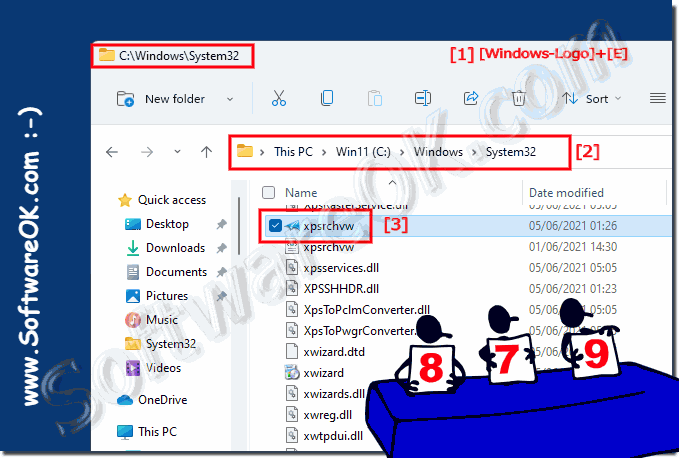 3.) Desktop shortcut for the XPS document viewer on Windows 11!
After you have opened the 
program path of the XPS viewer, it
 is easy  to create a desktop shortcut
by
dragging and dropping
 ( Please use the 
right mouse button
)
(
... see Image-3 Point 1 and 2
)
Info:

You can then make it available in Windows 11 start by simply right-clicking on the desktop shortcut you just created for the XPS document viewer! In Windows 11/10 and XPS Viewer is disabled by default, but you can enable it from Control Panel if you need it.


(Image-3) XPS viewer Desktop Shortcut on Windows 11!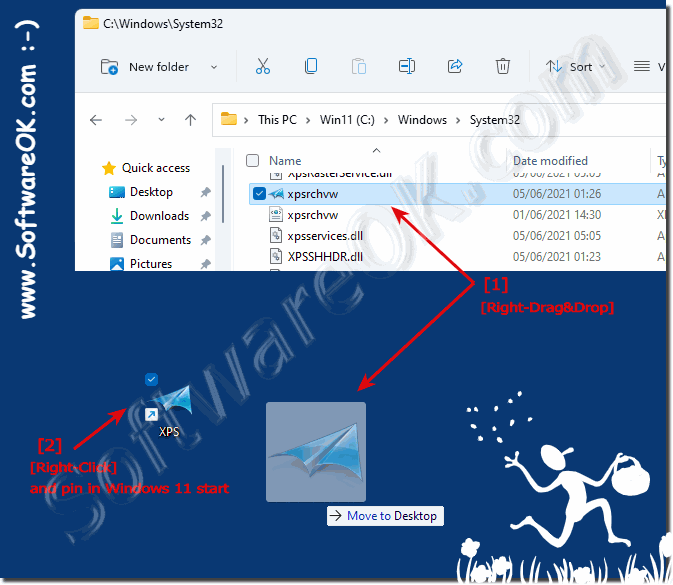 4.) Is the XPS document viewer still useful on Windows 11?
The XPS Document Viewer is a program developed by Microsoft for viewing XPS (XML Paper Specification) files, a file format for viewing electronic documents. XPS was Microsoft's answer to the widely used PDF format. However, the PDF format has established itself as the standard for exchanging electronic documents, and XPS has never achieved the same level of adoption.

In Windows 11, the XPS document viewer is still available by default, but is used less frequently than PDF viewers and other document viewing applications. Whether it makes sense for you depends on your specific purpose. If you regularly work with XPS files or receive XPS files from others, the XPS Document Viewer may be helpful. Otherwise, there are probably better and widely used options for viewing and editing documents, such as: B. Adobe Acrobat Reader for PDF files.




Overall, the usefulness of the XPS document viewer in Windows 11 depends on your individual needs and the file formats you use. There are many other options for viewing and managing documents that may better fit your workflow.







FAQ 99: Updated on: 31 October 2023 21:23