It is very easy to disable or enable the viruses and spyware protection by Windows Defender in Windows-8, 8.1 or Win 10!


Content / Solutions / Tip :


1.) The fastest way to start the Windows Defender!
The fastest way to start the Windows Defender in Windows-8 is via RUN command:
control.exe /name Microsoft.WindowsDefender (... see Image-1 Arrow-1)

In the Windows Defender Window please select the tab Settings and turn-on or turn-off the real-time  protection!
(... see Image-1 Arrow-2 and 3).

See also: ... Create Desktop shortcut for Windows-8 Defender and pin to start menu!



Image-1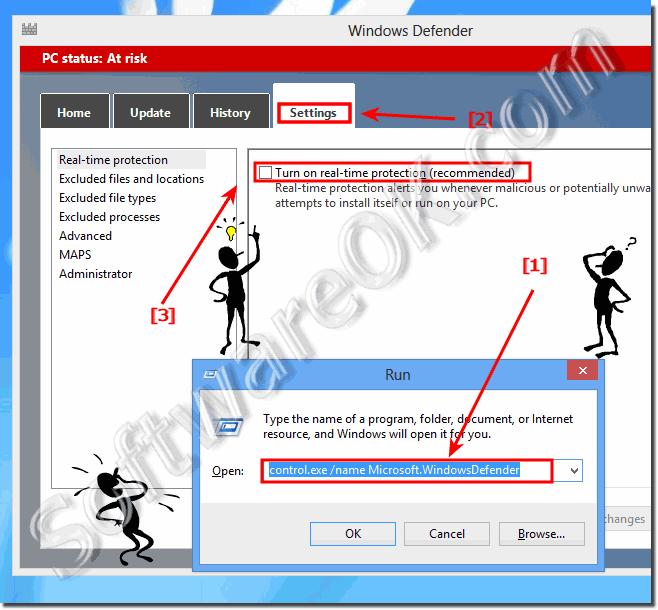 Disable or enable the Windows Defender in Windows 8 or 8.1

Info (c) Microsoft
Windows Defender is installed as part of Windows and helps protect your PC from viruses, spyware, and other threats. You can choose what data Windows Defender should scan anytime, or you can use real-time protection. Real-time protection notifies you right away, whenever suspected malicious software (malware) or other potentially unwanted software tries to install itself or run on your PC.
Windows Defender monitors several things on your PC in real time:
Any files you try to download, run, or access.

Many files and apps work with web browsers and can be downloaded, installed, or run by the browser itself. However, malware might be included with these files and installed without your knowledge. Windows Defender scans your downloads to make sure they don't contain malware.

Any apps that run on your PC.

Some malware looks for vulnerabilities in the apps that you've installed. For example, spyware can run in the background when you start an app. Windows Defender monitors when apps start and what operations they perform while running to help protect your PC.
If Windows Defender detects a potential threat, it notifies you and assigns an alert level to the threat. For more info about the different alert levels, see Understand Windows Defender alert levels. Depending on the alert level, Windows Defender might automatically take action for you, or let you decide how to handle it.

2.) What is important in Windows Defender Protection?
Is Windows Defender sufficient as virus protection is the Question! In the days of Windows XP , good anti-virus software was essential, as the Microsoft operating system had only a rudimentary firewall that allowed most malware to pass through almost undisturbed. With the release of Windows Vista , the IT group promised more security. This should ensure the Windows Defender , which today is  an integral part of Windows 8 and Windows 10 . Meanwhile, many users ask: Is the Windows Defender sufficient for protection against malware?



... the Windows Defender is not worse or better than any other maybe a bit aggressive!  





FAQ 115: Updated on: 26 July 2020 08:55