It is almost more important that the computer goes into the sleep mode, than that the standby state is prevented in Windows by Don't Sleep!




This new feature is in don't sleep from version 4.01! 
Please sleep is the opposite to the no sleeping mode, the Don't Sleep standard mode. Because some programs really prevent that the computer or monitor goes in sleep mode, or Windows itself thinks it doesn't have now. And that takes power (bad for the green nature) 


Wouldn't know how big is the damage worldwide through pointless running computer. I think there are millions per day.


The solution for the sleep problem under windows!
With the two separate controllers you can set when the PC should put the monitor or the computer in standby. And whether mouse events or keyboard events should be respected, or both. (

... see Image-1 Arrow 1 & 2

) 

 

I am open for suggestions for improvement. ;-)

 

To better identify in which mode you are located, the program and To-Tray icon in the notification will be changed, the area of the Windows taskbar. (

... see Image-1 Arrow-3

) 




Info for Softwaretester: sleep mode is not supported in Virtual PC (for example virtual box). Similarly, if drivers are not correctly installed (drivers of the graphics card, CPU,...)





(Image-1) Please Sleep Feature in Dont-Sleep on Wndows-10!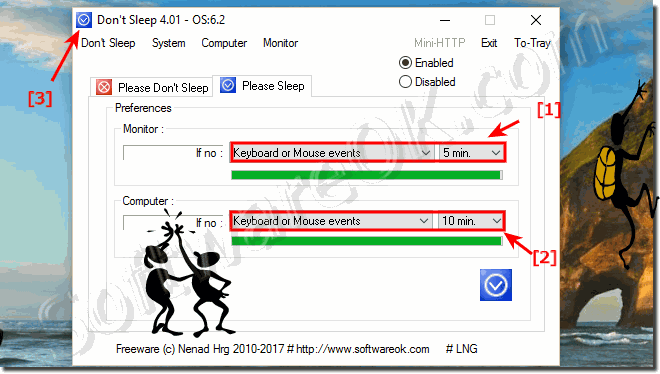 FAQ 11: Updated on: June 19th 2018 21:39