It's easy to create Action Center Desktop Shortcut in Windows 8.1, 8 or Windows 10. This solution is also for Windows Server 2019, ...!


Content / Solution:
1.) ... Creating the Action Center desktop shortcut for Windows Desktop and MS Server OS!
2.) ... What is the Action Center in Windows 8 and 8.1 and information!


1.) Creating the Action Center desktop shortcut for Windows and MS Server!
1. Simply click on an empty part of the Windows 8.1 desktop (... see Image-1)

2. then select the option "New" and "Shortcut" (... see Image-1 Arrow-1) 

3. And use the command wscui.cpl 

4. Please click  the button "Next" and use for the name Action-Center

PS: To see the on the all Windows OS the Desktop, simply press the keyboard shortcut [Windows+D]!

You can also use the my prepared shortcut. Download: ... Windows Action-Center_shortcut.zip

Click on the Action-Center Windows 8 Desktop shortcut to see (open) the Action-Center!

(... see Image-2 Arrow-1)! 



(Image-1) Action Center Desktop Shortcut for Windows 8.1 and 8!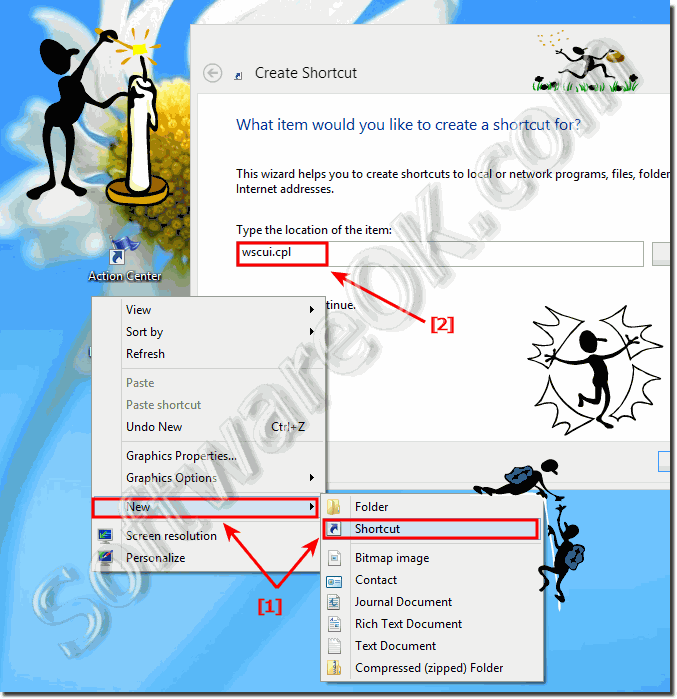 2.) What is the Action Center in Windows 8 and 8.1 and information!
Action Center is a central place to view notifications and take actions that can help keep

Windows

running smoothly. If

Windows

finds any problems with your hardware or software, this is where you'll get important messages about security and maintenance that need your attention.

In Windows 8 and 8.1 "Action Center", you can quickly:
(... see Image-2 Arrow-1-5)! 

1. Customize Windows SmartScreen.
2. View and change the status of the Windows virus and spyware protection!
3. Windows updates status and customization!
4. Information if a new driver is available!
5. Windows 8.1/8 File History! 
... and match more !



 

 





(Image-2) Show eg. Open Action Center in Windows 8.1 or 8!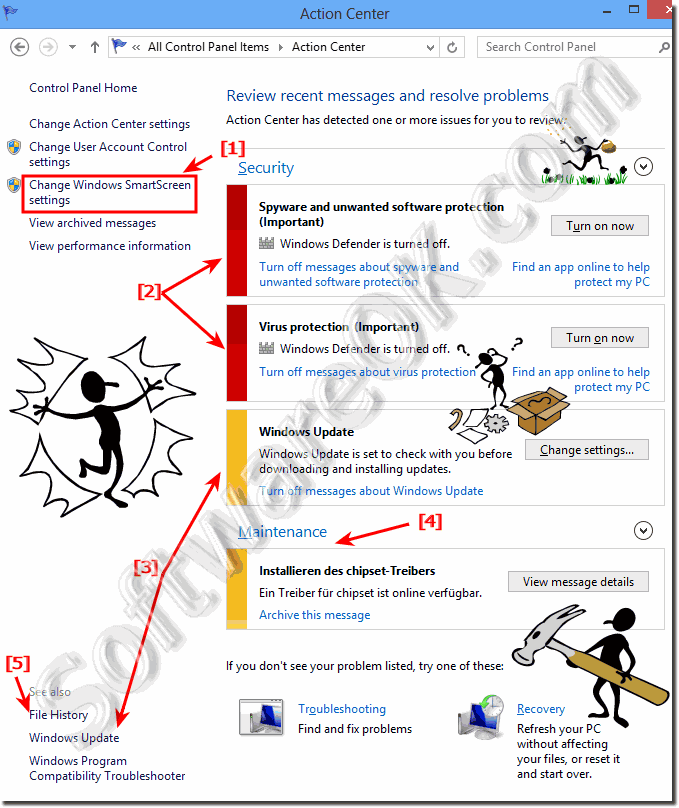 Other Win 8.1/8 Action Center items!
Network firewall
Checks info coming from the Internet or a network, and then either blocks it or allows it to pass through your firewall to your PC.
Windows Update
Gathers the latest security and PC updates from Microsoft via the Internet.
Virus protection
Detects whether your virus software is turned on and up to date.
Spyware and unwanted software protection
Detects whether your spyware protection is turned on and up to date.
Internet security settings
Checks to make sure that your security settings are working correctly.
User Account Control
Informs you when a app makes a change that requires administrator permissions.
Windows SmartScreen
Helps protect your PC by warning you if a downloaded file is known to be malware or has an unknown reputation.
Network Access Protection
Helps protect the overall security of the network (mostly used on corporate networks).
Windows activation
Informs you about whether you've activated your copy of Windows.
Microsoft account
Informs you about whether your Microsoft account is working properly. (This section will only appear if you've set up a Microsoft account.)
Maintenance: Check for solutions to problem reports
Checks for solutions to software or hardware crashes that happen on your PC.
Automatic Maintenance
Runs maintenance tasks to keep your PC running smoothly.
Maintenance: HomeGroup
Checks that a homegroup is working correctly (if available).
Maintenance: File History
Checks to make sure your PC is saving copies of your files so you can get them back if the originals are lost or damaged.
Maintenance: Drive status
Checks to make sure the file system is working correctly and is free of errors.
Maintenance: Device software
Checks for whether you need to install additional software for devices to run correctly.
FAQ 140: Updated on: 18 June 2022 03:58