The solution is simple to add eg. enable Shutdown, Log-Off, Restart in Windows tray, example for Windows 8.1, this is also suitable for Windows 10 and MS Server 2016!


Please use the Solution with ProcessKO! (... see Image-1 Arrow-1)! 
Read the solution: ... Enable Shutdown feature in Windows To-Tray area! 


... Download ProcessKO!
Read also: ... create a Windows 8 or 8.1 desktop shortcut for fast shutdown, log off, restart!



(Image-1) Shutdown, Log-off, Standby, Hibernate, Restart in windows 8.1 and 8 tray area!!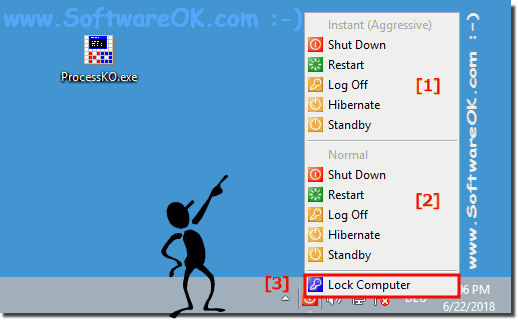 Important info (c) Microsoft!

In Windows 8 and Windows RT, there's really no need to shut down your PC completely—instead put it in sleep mode. This uses very little power, your PC starts up faster, and you're instantly back to where you left off. You don't have to worry that your battery will be drained because Windows automatically saves all your work and turns off the PC if the battery is too low.

For most laptops and tablets, sleep is the default shutdown mode, so all you need to do is close your lid or press the power button. If it isn't, you can change that.

FAQ 151: Updated on: 21 July 2019 08:33