The solution is simple to
change image

of Windows 8.1 / 10 lock screen, to make it individual or smarter!





 See also: ► ... enable or disable Windows 8 password query ►  ... change the Windows 8 user password

1.) Windows 8.1 and enable slideshow!
Please press the key combination [Windows + I], tap or click Settings in the PC-settings.
(... see Image-1 Arrow-1)

In the window PC-settings tap or click PC and devices. (... see Image-2 Arrow-1)

Click in the PC and device window on the lock screen. (... see Image-3 Arrow-1)
Now you can easily change the lock screen background image in Win 8.1(... see Image-3 Arrow-2)
Or activate the lock screen slide show in Windows 8.1 (... see Image-3 Arrow-3) 




(Image-1) Change lock screen image in Windows 8.1


(Image-1) PC and device Windows 8.1!


(Image-1) change lock screen screen background image!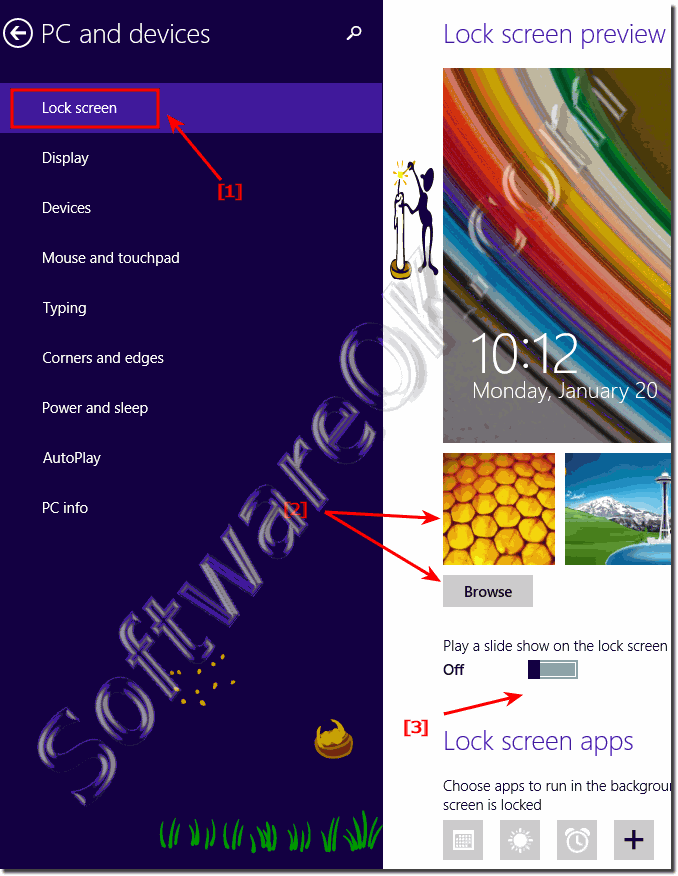 2.) The purpose of the Windows 8.1 lock screen!
When you lock your PC, the apps you were using will still be running when you come back and everything will be like it was when you left it. To lock your PC, tap or click your account picture in the upper-right corner of the Start screen, and then choose Lock.

You can lock your PC if you aren't using it but don't want to sign out. After you've locked your PC, or if your PC has gone to sleep after a period of inactivity, you need to dismiss the lock screen to use it again.
3.) Windows 10 enable slideshow disable / enable!

Pleas use [Windows-Logo + I] keyboard Shortcut, enter the text lock screen and select the action
(... see Image-4 Point 1) 




(Image-4) Change image of Windows 10 lock screen!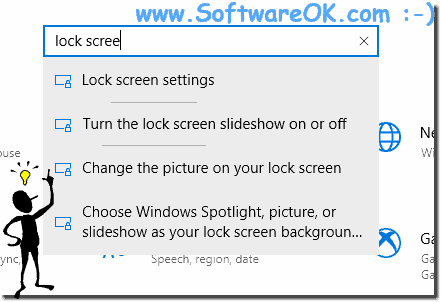 FAQ 165: Updated on: 29 April 2019 08:51