Not infrequently, the volume control disappears in the info area of ​​the Windows 11, 10, 8.1, ... taskbar!
Turning on and off the notification area taskbar icons is somewhat more complicated, but not impossible, unlike under Windows 7, because 
the advanced system settings are
not needed on all versions of Microsoft's Windows 11 and 10 OS, whether it's a Windows desktop, tablet, or Surface Pro / Go, or even a server operating system is.
Content / Solution / Tip:
1.) The elegant solution to customize notification area icons taskbar!
1. Please open the
Windows 10 settings
simply
Windows-Logo + I
and enter the text
"taskbar not"
.
2. And customize the icons  
It works but good and is convenient especially when
using the Windows 10 startup sound
.
(Image-1) Windows-10 and Volume control in the notification area of ​​the taskbar!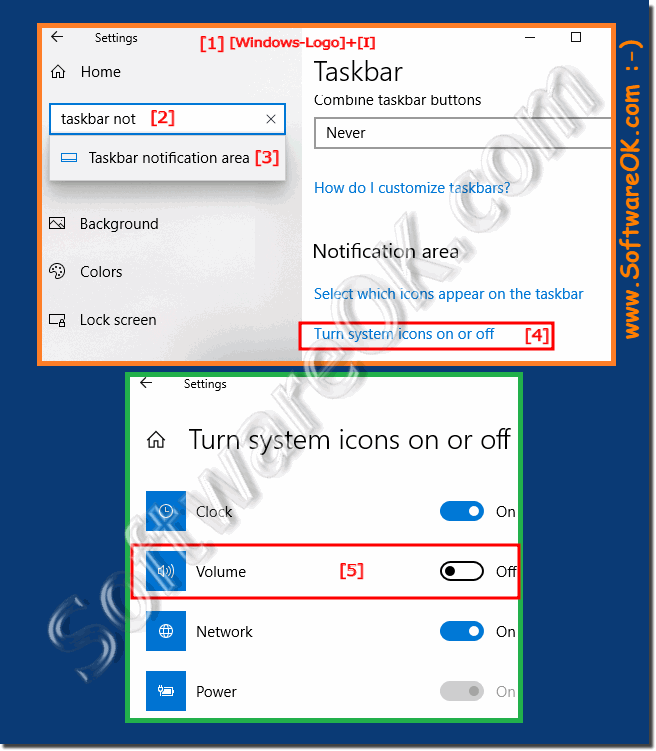 2.) What can I do if I have problems with InfoSymbols?
3.) ... With Windows 11 it is now overflow so please use overflow! 
1. Open the Windows 11 taskbar settings (right click)
2. Please scroll / click on
" Taskbar corner overflow"
3. Activate simply required symbols
(Image-2) Safely remove drives in Windows 11 taskbar is back!