It is easy to start speech recognition on Windows 10 / 11, if the required hardware is connected to the computer!
Set up and use Windows 10 
Speech Recognition
. Windows 10 / 11 has a so-called speakerphone with voice recognition, if the PC has a microphone this can also be used. You do not need a manual to know how to start and use them. Windows Speech Recognition eliminates the need for a keyboard and mouse. Instead, you can control the PC with your voice and enter text through dictation!
The new speech recognition and the classic under Windows 10 / 11!
1. Press the Windows logo + H
2. and just press the button microphone
PS: in
Windows Notepad
you can test if it is recognized correctly
Optional use
the classic speech recognition
Tip : ►► Check
the sound settings to see
if the microphone is recognized!
(Image-1) Start speech recognition under Windows 10!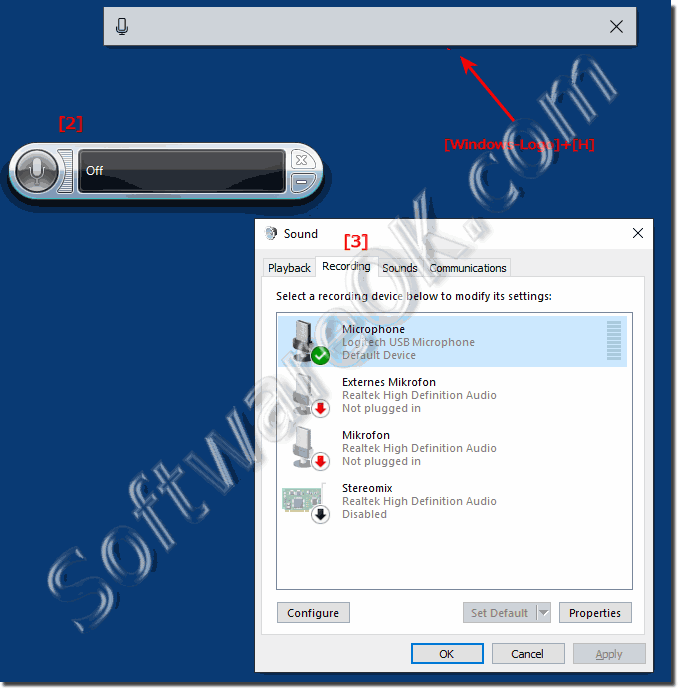 Under Windows 10, speech recognition is a user-friendly feature that allows you to fully control your computer with voice commands. Anyone can set up and use this feature to navigate, launch applications, dictate text, and perform a variety of other tasks. However, speech recognition is primarily designed to help people with disabilities who can
not use a mouse or keyboard
. You can do this in Windows 10 via Cortana but you can also communicate with Windows 10 and earlier versions of Windows through built-in speech recognition, on a home Windows desktop computer, on the tablet PC, on Surface Pro / Go, or even as an administrator in a server room on the server operating system