It is easy to zip ergo compress folders and files under Windows 11, 10, ... and also to unpack them again in order to combine multiple data in one compact package!
The compression and extraction of the files is possible in Windows 11, 10, ... etc. as well as MS Server!
1.) How to create a zip file under Windows 11, 10, ...!
1. First use the file explorer to search for the file, files or folder that you want to compress
2. Then right-click the option
"Compress to ZIP file"
  🤐
3. A ZIP folder with the same name is automatically created
(
... see Image-1 Point 1 to 3
)
PS:
If there are several files, folders, ..., the first marked zip file name is always used, but you are immediately offered to rename the zip folder without first doing this mark and rename with the F2 key!
(Image-1) Compress files under Windows 11!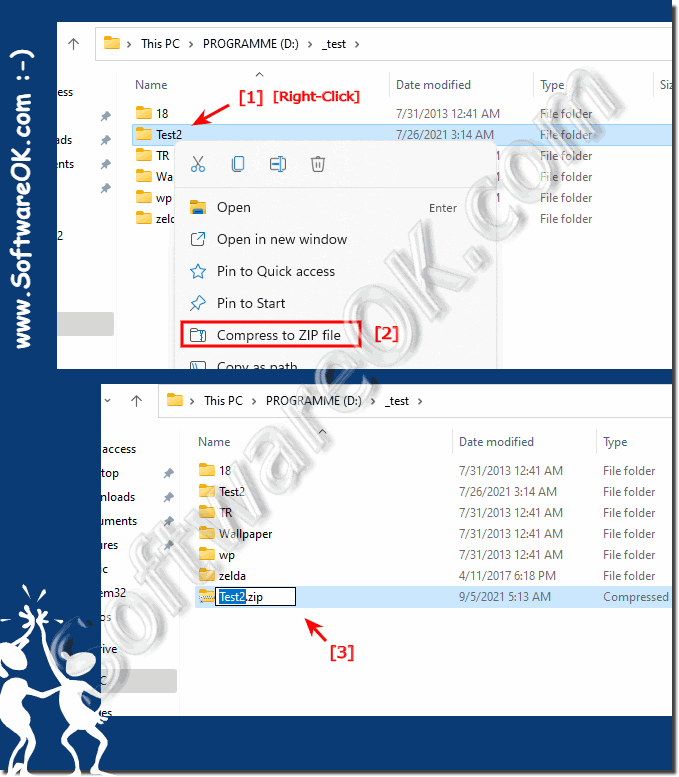 2.) How to open a zip folder compressed file in Windows 11
1. Opening the zip folder is the same as opening a normal folder with Enter key or double click
2. You can add files via the clipboard or via Drag & Drop 
(
... see Image-2 Point 1 to 3
) 

This works both ways like a normal 📂 folder, and that's all! Quite easy. Now that you have a ZIP folder, you can copy data into it!
(Image-2) Open the compressed folder and add files!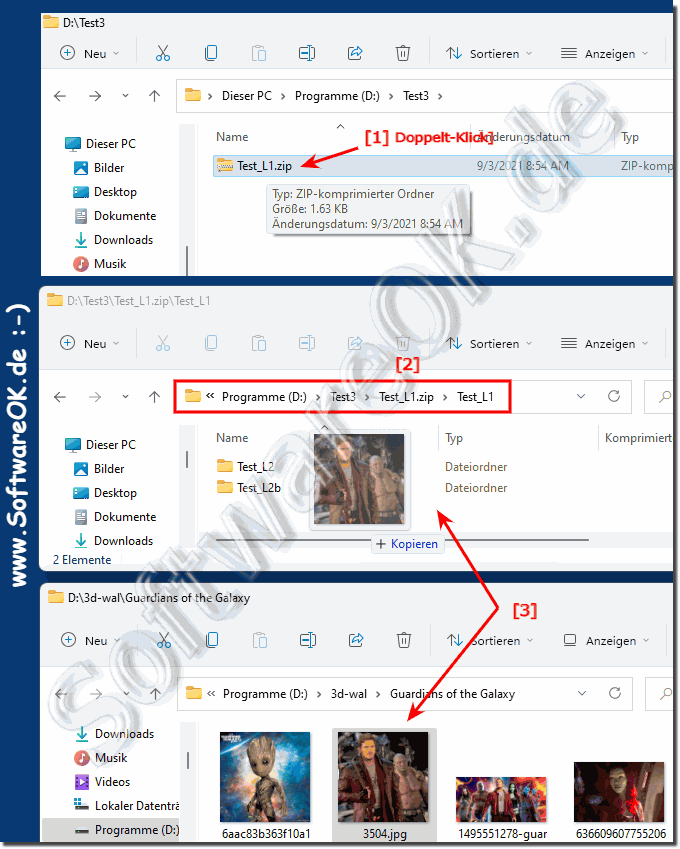 3.) ... How to unzip a zip file under MS Windows OS!
1. First look in the file explorer for the ZIP file that you want to extract 
2.
Right-click
on the zip folder 
3. In the menu, select
"Extract All..."
4. In the window that appears,
"Extract the compressed (Zipped) folders"
5. Here you can see the current file path as the standard storage location for the unpacked data. 
(PS: If you want to change the location where the files are extracted, click on "Browse" and then navigate to the drive or folder you want.)
6. Now just click on 
"Extract"
(
... see Image-3 Point 1 to 4
) 

If you want to view the extracted files in File Explorer when the process is complete, select the check box next to "Show extracted files when finished". When you're done with these options, click Extract. Extracting / unzipping ZIP files in Windows 11 is just as easy as creating it.


(Image-4) Unzip ergo e xtract the files under Windows 11!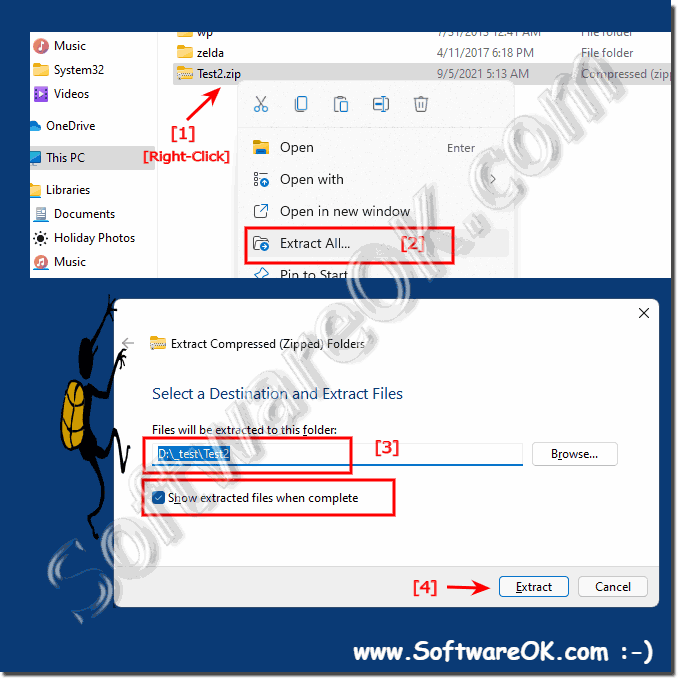 4.) What are the advantages of reducing / combining the data?
In Windows 11, 10, ... etc., the compressed ZIP file format is available, which is also known as a zip folder, data can be archived here in compressed form!
You can add data to the ZIP archive at any time and also remove it later!
The advantage is not only to reduce the size of the files, but also has a positive effect on file transfer, as the storage space is less. If you combine several files in one compact package with the help of ZIP compression, you can conveniently send them by email.