You can jump straight back to any open paths in the history in any address bar of the explorer views!

Sometimes you do not want to press the Back or the back button a few times to get to a certain point in the history, which is understandable, in Quad Explorer this is a pretty easy way to switch to a specific folder in the history. 


The direct jump to a folder / directory in the history!
1. Please click with the right mouse button on the Back, or Next button in the address bar of the Explorer view.
2. Then you will see all recently opened folders of the respective Explorer view.
Also interesting:
►
... address bar rules in Q-Dir are like in MS Explorer
!
►
... a separate directory tree for each window
!
(Image-1) Open paths in the history directly!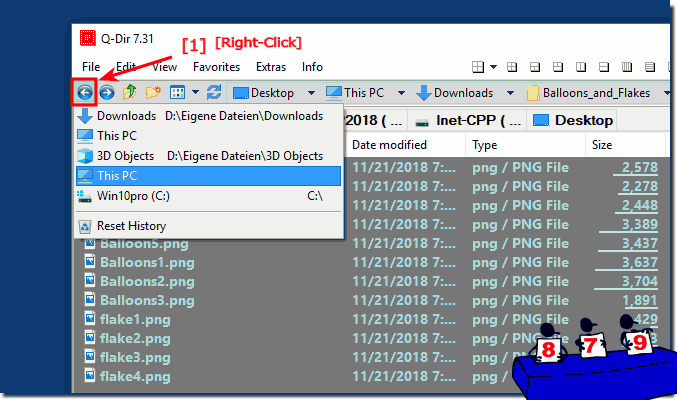 Info:
Fast Jump to Folder ergo Directory in File Explorer History is suitable for all Windows operating systems, however, you can use this fast jump in history folder as an example without hesitation also for earlier versions of Microsoft's Windows operating systems whether it's a Windows desktop, tablet, Surface Pro / Go, or even a server operating system. It has been tested on all and successfully
verified
.