If you need a clock with seconds pointer on the Windows 11, 10, ... or MS Server system, you do not have to look far!
After the
desktop clock program has
started, move the desktop clock to the Windows desktop and adjust the size of the desktop clock. Optionally, simply activate or deactivate the second hand, if the second hand is also on a local second hand
If you
want to activate Windows desktop computer or mobile on the tablet PC, the second hand on the Surface Pro and Go will look good. Yes, even as an administrator, you can
activate
the second hand in the server room on the server operating system, as well as in the seconds display in taskbar . 


PS do not forget
... to adjust the time correctly to
 get
 the correct time
in the  desktop clock with or without second hand.
(Image-1) Watch second hand on Windows 10, 8.1, 7 desktop!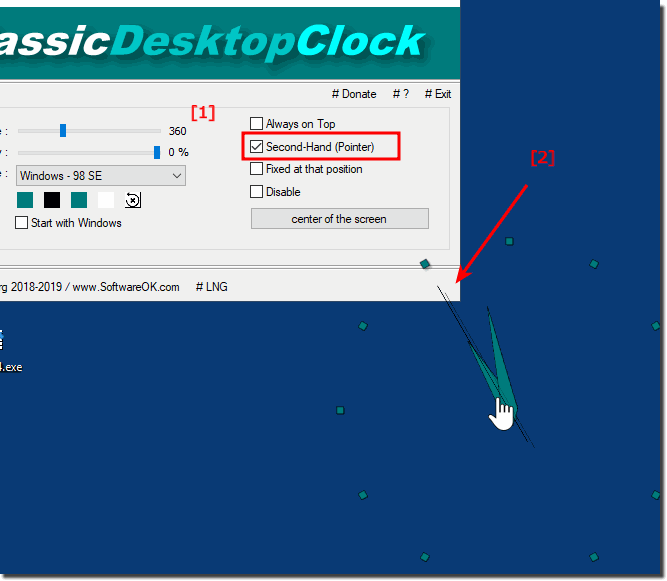 Seconds display in taskbar
Tip:
The Windows 10 taskbar clock can accurately display the exact time to the second.
This feature requires a registry hack and works only on Windows 10. Instead, Windows 7 users need a third-party utility to do this.

Or simply
create
the DWORD
"ShowSecondsInSystemClock"
in the registry under:
HKEY_CURRENT_USER \ Software \ Microsoft \ Windows \ CurrentVersion \ Explorer \ Advanced and set it to 1!



This tip set the ShowSecondsInSystemClock value exactly as described here.
When you run the "Show seconds in the system clock" trick, the ShowSecondsInSystemClock value is set to 1.
If you want to run the "Remove seconds from the system clock" trick, simply delete the ShowSecondsInSystemClock value from your registry.
If you get curious about what these or other .reg files do, you can right-click and select Edit to see their contents in the editor.