If you need a second display on the desktop under Windows 11, 10, ... or MS Server is clearly visible!
After the 
Digital Desktop Clock
 starts, move the clock to your Windows OS and adjust the size of the Digital Clock. Optionally just activate or deactivate the seconds, with the seconds display it is also unimportant whether you tick the second hand on a home Windows desktop computer, or mobile on the tablet PC on the go.
PS do not forget
... to adjust the time correctly
 to see the correct time
 in the  Digital Desktop Clock , with or without seconds.
(Image-1) Activate the optional seconds display on the desktop!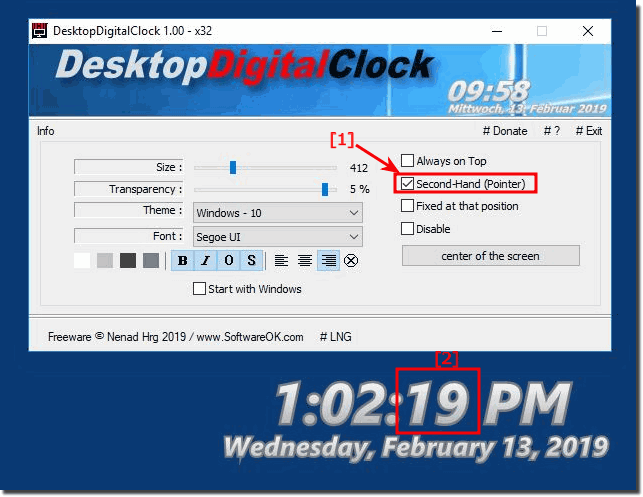 Displaying seconds in the Windows 10 taskbar timer!
How do I display seconds in the Windows taskbar clock?
is an often asked question!
By default, only the hours and minutes are displayed in the taskbar timer.
Since Windows 10 Anniversary Update (version 1607), there is a simple registry optimization feature that allows Windows to display 10 seconds in the taskbar clock without the use of third-party software.


Or simply
create
the DWORD
"ShowSecondsInSystemClock"
in the registry under:

HKEY_CURRENT_USER\Software\Microsoft\Windows\CurrentVersion\Explorer\ Advanced

and set it to "1"!