Deactivating or activating the sorting for new objects in the File Explorer is possible in the Quad Explorer and practical when new files or folders are created!
It is really difficult to satisfy all users here. Microsoft has given up in File Explorer on Windows 11 and 10 and the data is always sorted into the list, whether you want it or not. In Q-Dir you can turn off the automatic file sorting or, if you wish, activate it too!
1.) Deactivating the re-sorting for new objects!
1. As always, start
Q-Dir Quad Explorer for MS Windows OS
2. And go to
Tools
 ►
List-View
on
Deactivate
3. And activate or deactivate the option:
"Disable auto sorting when rename or copy elements"
(
... see Image-1 Point 1  to 4
)
Deactivating the automatic sorting when renaming or copying elements can be so easy if you activate or deactivate the right option!   
(Image-1) Deactivate sorting for new objects in File Explorer!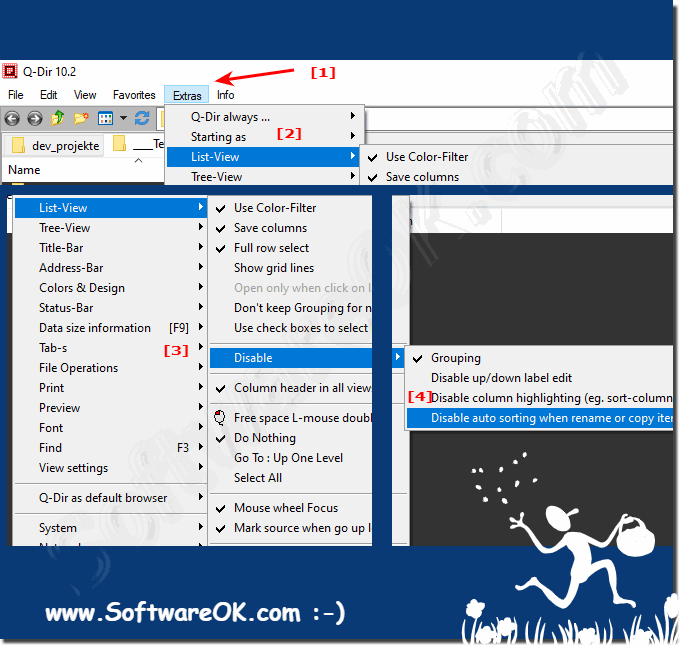 Technical information:

The FWF_NOENUMREFRESH command no longer works correctly because it deactivates the complete automatic update in File Explorer. If you now use FWF_NOENUMREFRESH, the data will not be re-sorted. but files that were created in other file explorers or programs are also renamed, deleted and ... are not updated! A very sensitive story with filenames and the auto-update and file sorting!



2.) Why and when is it important to turn off file re-sorting?
Especially when you rename a file and want to edit the next one, it can be annoying when it jumps off the list because it has just been renamed and this can lead to frustrations because the file list in the file explorer has many entries and is already losing get the pleasure of renaming the objects!
The same is when you create new folders that they are sorted somewhere in the file list according to the respective sorting! 
If you deactivate the option: ► 
Deactivating re-sorting for new objects!
(
... see Animation Image-2
) 
If the files have not been rearranged, see: ►  
A lot of wind about sorting files!
(Image-2) 
File sorting when renaming or creating new folders / files!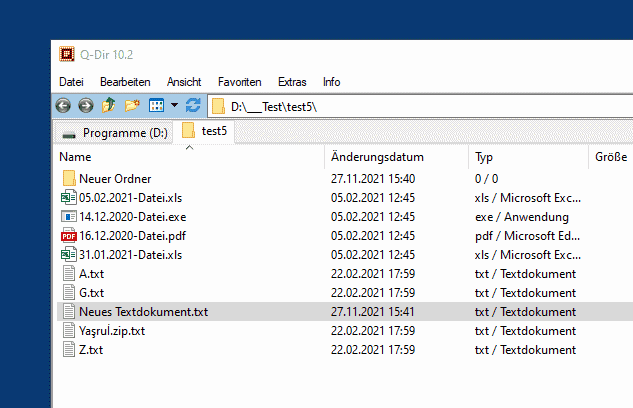 3.) Why so much fuss about the sorting when creating new objects?
Jumping from the folder or file to an alphabetically correct position after creation is very popular with some Windows users, while others prefer it when the objects appear in the last position in the file explorer when they are created.
It worked in Windows XP / 7 because the sorting was simply switched off when creating new objects or renaming them! Which is also a sensible option! You could certainly experiment a long time and consider other intelligent options, but you always have to remember that these do not overlap with other file operations in the File Explorer list views!
Here is another animation when sorting new objects, renaming, ... etc. is deactivated in the file explorer!
(
... see Animation Image-3
) 
(Image-3) 
No file sorting when renaming or creating new folders / files!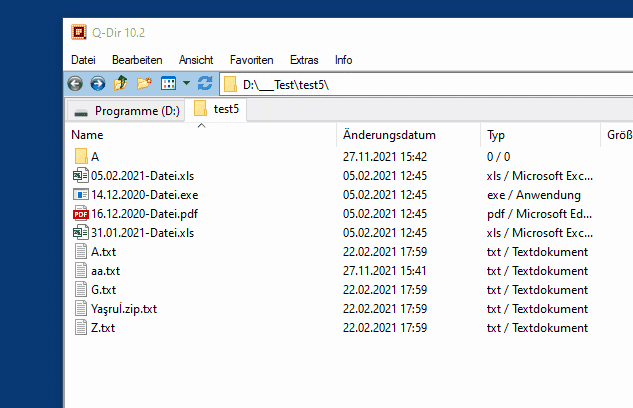 Info:

The sorting of the data during creation can thus easily be deactivated and it is much easier when renaming and copying files the position does not change. Some users find it much better if the files are always actively sorted because they like the sort order. Anyway, you can set it up so that File Explorer Q-Dir always behaves the way you want it to. I'm always open to suggestions for improvement, not only with regard to the file sorting in the file explorer.