At Windows 10, 8.1, ..., there are different procedures for hiding the mouse cursor, which can be selected freely from AutoHideMouseCursor version 2.25.


Many users who works with full-screen applications prefer the classic strategy. The new Hide Mouse cursor strategy is somewhat more sensitive and work oriented. (... see Image-1)


From Version:  3.01 "New strategy + Aggressiv"
Info:
Just
... download AutoHideMouseCursor
, test it and write a feedback or comment to me  ;-).
For example, the classic strategy, is in example also good to hide the Tooltip and Quick-Info Text!
Decide for yourself which is the better solution to hide the Windows mouse cursor, the procedure is different as I said.
(Image-1) Mouse Cursor Hiding -Classic and New Strategy for Windows!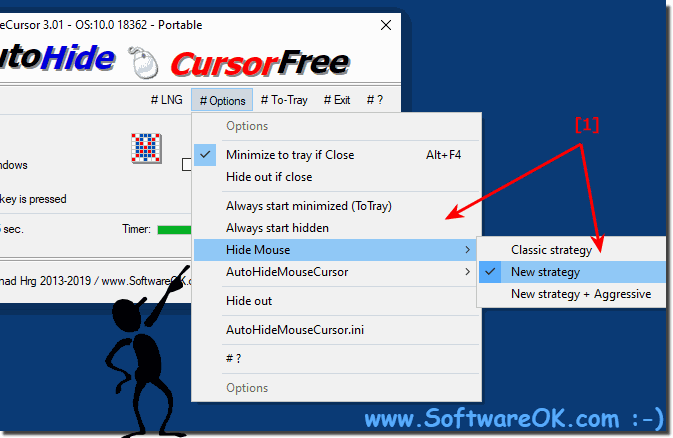 Hiding the mouse cursor is sometimes very useful, whether you want to use the mouse cursor on the latest Windows OS or hide the mouse cursor on the desktop, Surface Pro / Go or on a Windows Server system.

FAQ 4: Updated on: 2 July 2020 19:25