At Windows 11, 10, 8.1, ..., there are different procedures for hiding the mouse cursor, which can be selected freely from AutoHideMouseCursor version 2.25.



Many users who works with full-screen applications prefer the classic strategy. The new Hide Mouse cursor strategy is somewhat more sensitive and work oriented. (... see Image-1)



From Version:  3.01 "New strategy + Aggressive"
Info:
Just
... download AutoHideMouseCursor
, test it and write a feedback or comment to me  ;-).
For example, the classic strategy, is in example also good to hide the Tooltip and Quick-Info Text!
Decide for yourself which is the better solution to hide the Windows mouse cursor, the procedure is different as I said.
(Image-1) Mouse Cursor Hiding -Classic and New Strategy for Windows!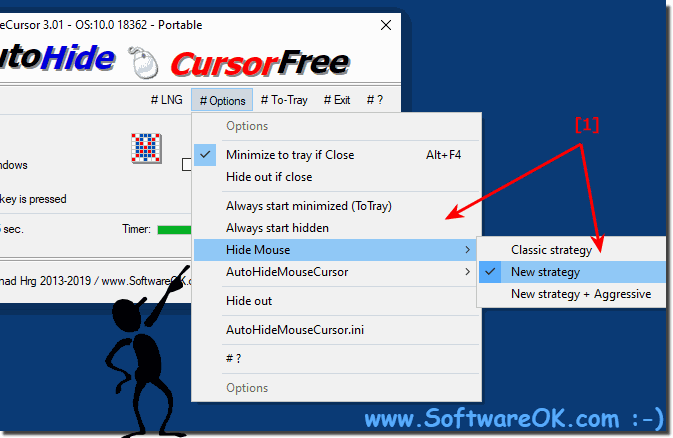 Hiding the mouse cursor is sometimes very useful, whether you want to use the mouse cursor on the latest Windows OS or hide the mouse cursor on the desktop, Surface Pro / Go or on a Windows Server system.


The User Request Example:


Hello and thank you for your program. I find it very useful to hide the annoying cursor which frequently interferes when typing within text boxes.

My question:
When the cursor is hidden (set for 2sec), the center scroll-wheel on the mouse also becomes deactivated (but the left and right buttons remain active). This forces me to be constantly moving the mouse to scroll, which has now become an annoying habit for me as I am jiggling the mouse even when not necessary especially on other pc's that don't have the program installed.

Could you please allow the scroll wheel to always be enabled? A lot of the times I don't need the mouse cursor as I am only trying to scroll the page.



The Answer!


Please use the new Strategy!





FAQ 4: Updated on: 27 May 2022 06:54