One wonders whether defragmenting or optimizing the hard disk or USB drive makes sense and whether it is necessary to do this under Windows or MAC OS!


Content:


1.) What should you do when - optimize vs fragment!
Optimizing: 
Can and should be done with SSD

Defragmentation:  With normal hard disks 

To do this: ►  Is my hard disk an HDD or SSD !



Optimizing the SSDs is sufficient. the result is the same and the hard drive speed is better. SSD drives do not have to be defragmented, optimizing or fragmenting does not achieve any improvement here!


2.) Defragmenting can take what feels like an eternity!
Defragmenting very large hard disks can sometimes take what feels like an eternity. And the desired increase in speed usually remains unfulfilled.

But this is also due to the physics of the hard drive, since it is a mechanical component. When it is new and empty, it is nice and fast and becomes more and more sluggish. This is not only due to the number of files, but also because the hard drive is a rotating disk.

Imagine a record, and if you are younger, a CD or DVD. Of course, the speed is much greater at the outermost edge than near the core. ( ... see Image-1 )

The fuller the hard disk, the closer to the core the data is written, ergo slower. This effect can be observed especially with external hard drives.

If it was a whopping 100 MB at the beginning (as an example), at the end it is only 30 to 40 megabytes.
But that's completely normal.

It's not that bad with the SSDs, but you shouldn't write them completely either, because if they are more than 2/3 full, they also have speed losses.


3.) The perfect defragmentation for HDDs!
A little tip from me: with external hard drives, if the hard drive has large files and you have a second free hard drive, it makes more sense to copy the data to the second, because this is the perfect defragmentation. And it's much faster than standard defragmentation. Then you can format the first one and now it's really defragmented ;-).  

So before defragmenting , ask yourself what to expect and how full the hard drive is. 
As a rule, with a little luck, you can achieve a 10% increase in speed. 

At the moment, however, the hard drive's biggest brakes are the four-scanner programs, but since you need these, you should possibly exclude hard drives from the virus scan that do not need a check, you can get a speed increase of up to 1000%.
See: ►  Excluding a folder from Windows 10 Defender, but how?  

Oh yes, I am always asked which virus scanner is the best. They are all almost equally bad or equally good. Windows Defender is sufficient and not worse or better than all the others. However, this is also about staying a while and whom I trust. Fortunately, you have the freedom to make personal decisions!  




(Image-1) Defragment or optimize!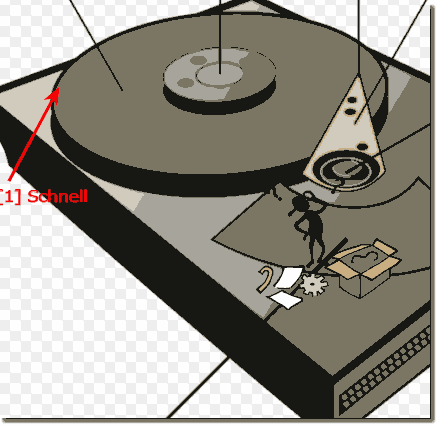 4.) Did defragmentation break my SSDs?


It doesn't break it but ►► shortens  the lifespan of the SSD ! 


Will the SSD benefit from defragmentation?


The simple answer is no. The entire basis of fragmented data depends on the fact that your storage device uses moving parts to access data. Since SSDs have no moving parts, hence "solid state", there is no search time or rotation operations. Instead, SSDs access flash memory (NAND) at much higher speeds, usually less than 50 microseconds compared to a typical hard drive with an average access time of 15 ms about 300 times faster. But there is more to the story than just speed.




5.) More links and information about hard drive optimization and ... so!
FAQ 44: Updated on: 27 August 2021 08:40