What is a watermark and how are photos watermarked is a good question!
1.) Understand the watermark!
A watermark is a lettering or a logo that is placed over the original image or photo in order to use the watermark to protect a photo of people or institutions who have the use of their digital works, i.e. to prevent them from being simply copied and be used without permission.


Here is a simple example ( ... see Image-1 ) when a watermark is placed on a photo with the help of the Windows APP ►►  PhotoResizerOK !

The watermark can mostly be used to protect copyrights, it can also be found on banknotes, etc. 



(Image-1) Create a watermark on a photo!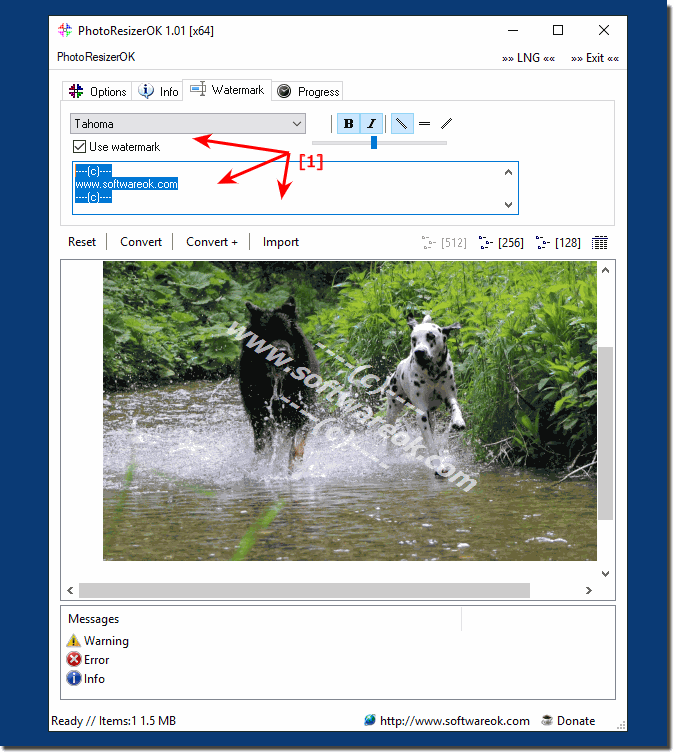 2.) Detailed information about the watermark as an image, document and technical information!

A watermark is an invisible or visible mark placed on an image or document to identify it as property. Watermarks can be used to protect against copyright infringement or as a marketing tool.




Text Watermarks:
Text-based watermarks can be inserted into images or documents to add information such as the creator or date. This can be done using software tools such as Adobe Photoshop or specialized watermarking apps.

►►  Insert watermark in MS Word or Excel?

Image watermarks:
These are images or logos that are inserted into the content. Inserting image watermarks is similar to inserting text watermarks, but an image is inserted instead.

Visibility and Transparency:
Watermarks can be visible or transparent. Transparent watermarks are more subtle and have less impact on image quality.

Invisible Watermarks:
These watermarks are not visible to the naked eye. They can be created using digital techniques such as image compression or steganography.

Visible Watermarks:
These watermarks are visible to the naked eye. They can consist of text, logos or other graphics.

Keep in mind that while watermarks can help protect your content, they are not completely secure. However, high-quality watermarks are more difficult to remove or bypass.



Info:

Watermarks can be created and inserted using various software programs or online services. Watermarking is an effective way to protect or market images, documents, or other digital content. By adding a watermark, you can improve the integrity of your property and the visibility of your brand.




Long text on Wiki: ... en.wikipedia.org/wiki/Digital_watermarking

FAQ 238: Updated on: 20 October 2023 19:24