Deleting or removing the text formatting in MS Office Word, Outlook or PowerPoint is easy!




 

Content:



1.) Text formatting in Microsoft Word!
1. Start, for example, MS Office 365 Word, Powerpoint, Outlook, ... 

2. Select the text whose standard formatting you want to restore.

3. On the "Home" tab, in the "Fonts group" , click "Clear All Formatting"






You can easily remove all formatting: bold, underline, italic, color, superscript, subscript, ... etc. from your selected text and reset your text to the standard formatting, which is possible with Word under Microsoft Office, Outlook, PowerPoint, ... etc. possible!

See also ►►

How can I only print the selected text in Office Word?




(Image-1) Clear text formatting in MS Office Word, Excel!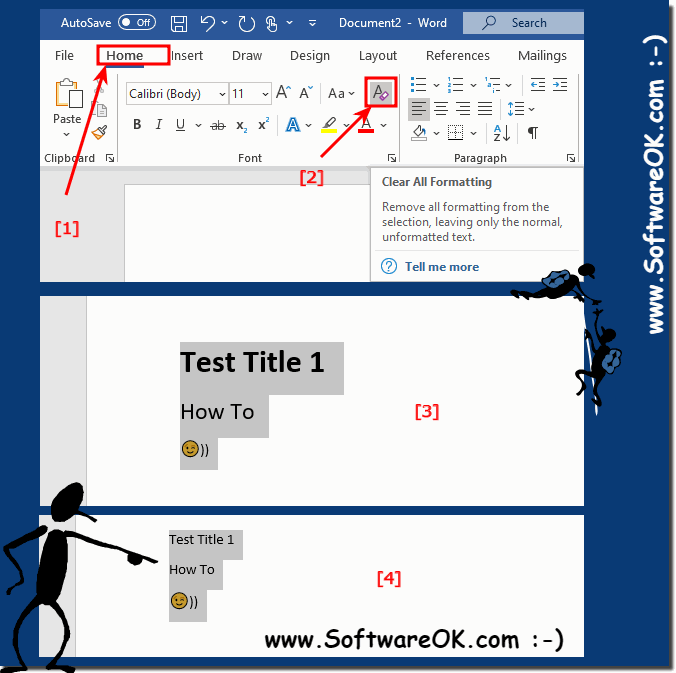 2.) Why is it useful to remove text formatting!
Here, the best practice is to remove all text formatting and start formatting from scratch from the Word document to get a better result. With this approach, it's usually a very good thing to reformat the text rather than working in snippets and still not getting the right overall picture, because correct and beautiful formatting is the most important thing for Word documents to be presented.



FAQ 38: Updated on: 29 September 2022 13:50