The option Soft-Refresh to prevent listing or re-sorting of the list view, eg with Drop, Paste, Refresh!



If this option is enabled in the file manager Q-Dir , there will be no re-sorting of Windows files as new data (folders, directories, files) is added. 

It is very confusing if the position of the files in the current Explorer list view changes, this function or option is available from Windows 7, Vista, 8.1, ...! 

The new name of Soft-Refresh is: "Disable auto sorting when rename or copy items" 

New Quad-Explorer: (... see Image-1 Point 1 to 4)

Older Quad-Explorer:(... see Image-2 Point 1 to 3)




(Image-1) Soft-Refresh, in Q-Dir Explorer-List-View!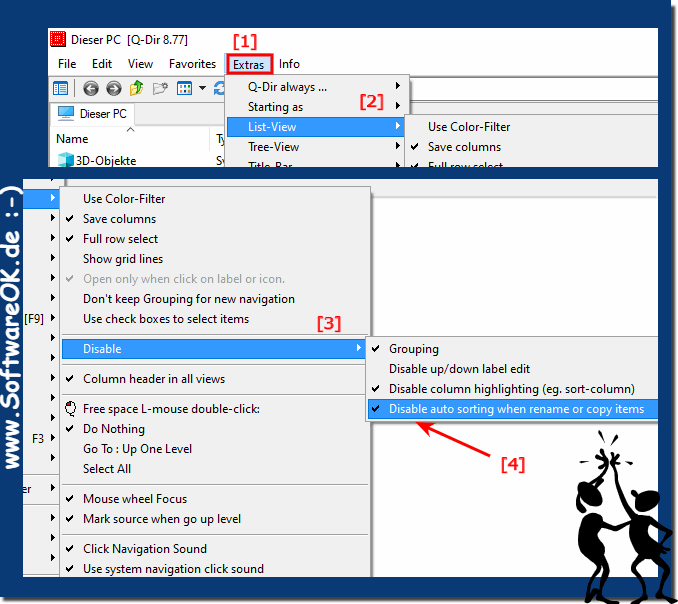 (Image-2) Old Soft-Refresh, in Q-Dir new name!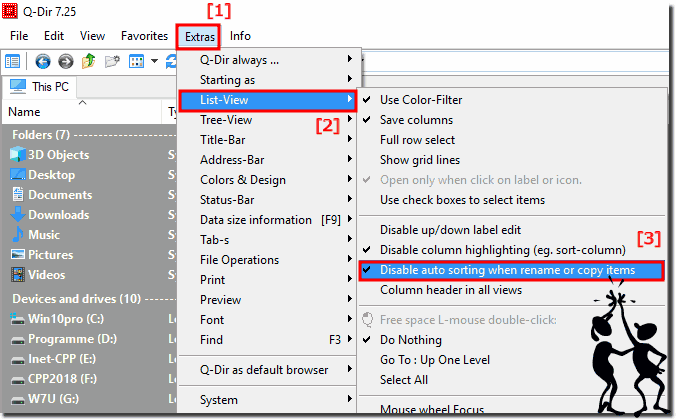 Info:

However, you can use this soft refresh solution without hesitation also for earlier versions of Microsoft's Windows operating systems whether it's a Windows desktop, tablet, Surface Pro / Go, or even a server operating system.
 
Is a nice optional option that makes sense, it is really useful in some case, to dont refresh every time the explorer list view a beneficial to use on the new MS Windows OS!
 


FAQ 112: Updated on: 14 May 2021 17:01