The solution 2 x Explorer to open only two folders and not 4 Explorer on Windows all OS at Problems with 2 or 3 Explorer!


Content:




1.) Set two folders view and not 4 Explorer for Windows!
1. Start Quad Explorer

2. Select 2 H Explorer (for Example) 

3. Q-Dir Save last settings (is on ?)




(Image-1) Open only two folders and not 4 Explorer on Windows OS!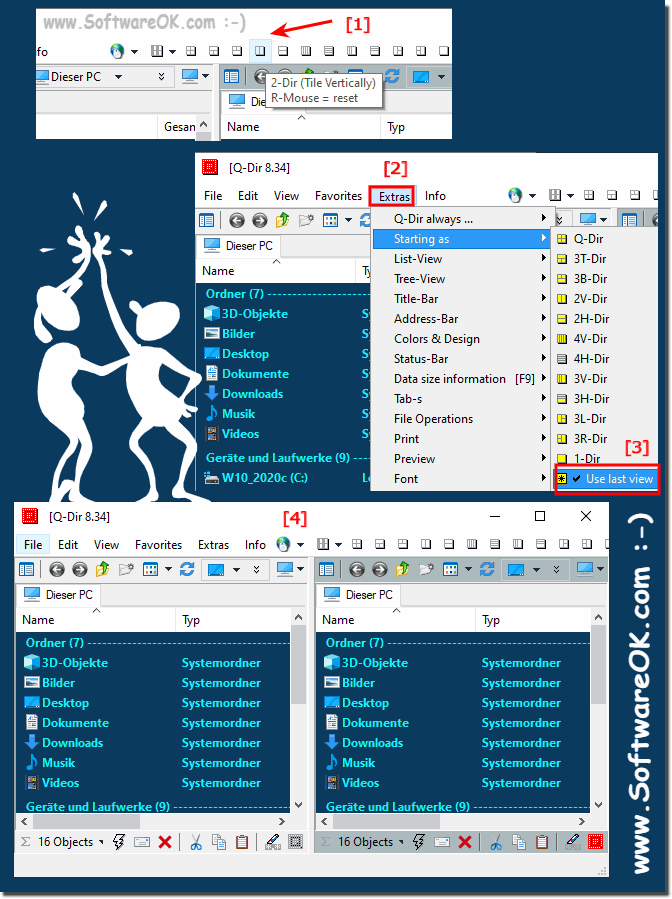 2.) What should I watch out for in the File Explorer administration view?
Using a file explorer view is popular but you can start with a favorite setting from the desktop

.

This allows you to determine how File Explorer and how many lists views or other settings are saved.

See: ► Column settings of the Explorer view are not saved?


3.) More helpful information about file explorer administration!
After you have done the new file explorer management you may be wondering why this file management is important, it is about a comfortable moving, copying, ... the data and a better overview of the 4 X Explorer is deliberately not with buttons flooded so as not to deter newcomers from getting to know a new file explorer administration!

FAQ 123: Updated on: 14 May 2021 16:59