Activate the Auto Backup Feature in QuickTextPaste, is possible from Version 3.63 and it is suitable for Windows 11, 10, 8.1 and all others Windows OS!


Content:


1.) For what´s this Auto Save Feature and how to use?
For example, if you accidentally delete one or more commands is the auto backup very useful! 
Please click or tap on Options Button in QuickTextPaste select the menu entry Backup!

The QuickTextPaste will auto create the Backup Folder and auto save ergo create a backup of the QuickTextPaste.ini with the Timestamp (Reverse-Format) in the File Name. (... see Image-2) 
I use also permanently Quick Text Paste and the commands and text snippets are very valuable for me!
I will not lost this make the work on my PC faster and save me so much time.

Activate: 

If you want to create an auto backup every hour or on time per day please select this option!
If you want to see or delete backups select the menu entry Open the Folder! 

Or the menu entry Create Backup Now to create a backup immediately ;) (... see Image-1) 

The Autobackup will be create only if change or add new Commands and taking into account the personal settings.  
    


(Image-1) Auto Backup Feature in QuickTextPaste!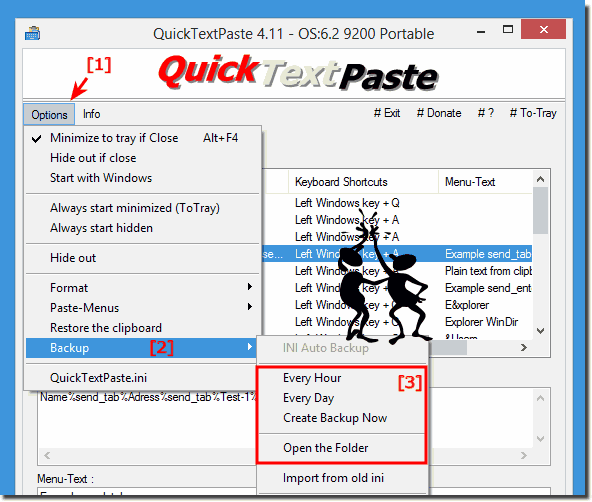 2.) More info about Auto Save in QuickTextPaste
In the default Ini File is the last Timestamp saved (Seconds from 1970) ps is my year of birth ;-)

last_backup=1507027868

The Backup Folder name is Backup and is Relative to the path of the ini file:
For example:

D:\Portable\QuickTextPaste\QuickTextPaste.ini


the Backup Folder is D:\Portable\QuickTextPaste\Backup

That looks like this:(... see Image-2)

The ini value use_backup_h is for hour and use_backup_d is for save daily!




(Image-2) Backup Folder of QuickTextPaste!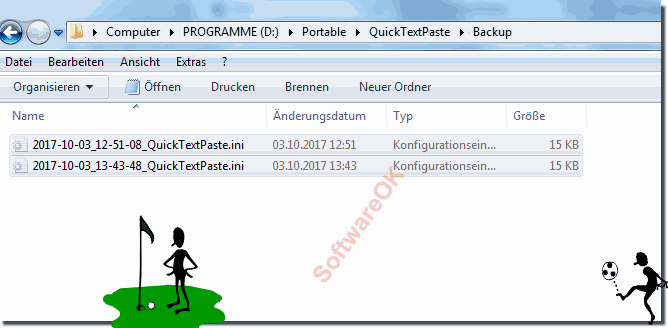 3.) Why is the function "INI Auto Backup" greyed out?

This is only the Title of Auto Backup Feature in QuickTextPaste!

(... see Image-1 Point 1 and 2)

Info
Default MS-Menu has not Sub-Menu-Title possibility. I will make in Future an own solution  




(Image-3) Auto Backup Feature Title in QuickTextPaste!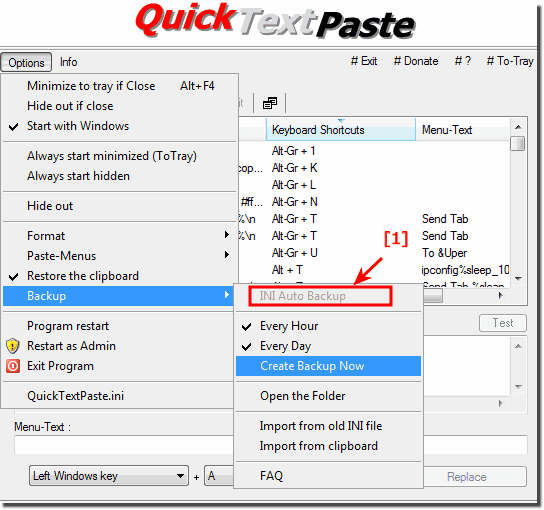 FAQ 25: Updated on: 13 July 2021 09:44