Convert of Scans to PDFs works with most scanners, and all-in-one printers or multifunction devices on Windows 11, 10, ... OS and MS Server OS!
Please use the latest version of
WinScan2PDF
, if there are any problems improvements for certain scanners can be made:
See
... WinScan2PDF History
!
If multiple scanners are available on the PC or on the network, you can select and use it. Please click the button
Select Source
. (
... see Image-1
)  Is also suitable for scanners with multifunction printers or multifunctional devices.
For scanner driver problems you can try it with the X64 version of WinScan2PDF from Ver. 3.74.



Download the scan software and start this easy to use portable application to easily and reliably convert documents to PDF using all the scanners installed on your computer.


Please use at Problems on Windows 10 The Original scanner driver:


► Brother ► HP ► Samsung ► Dell ► Xerox ► Epson ► Canon ► OKI ►Kyocera 
► HP Laserjet III, 4, 5, Plus, Driver x64, x32, Windows 10, 8.1, 7!  



(Image-1) WinScan2PDF with all scanner!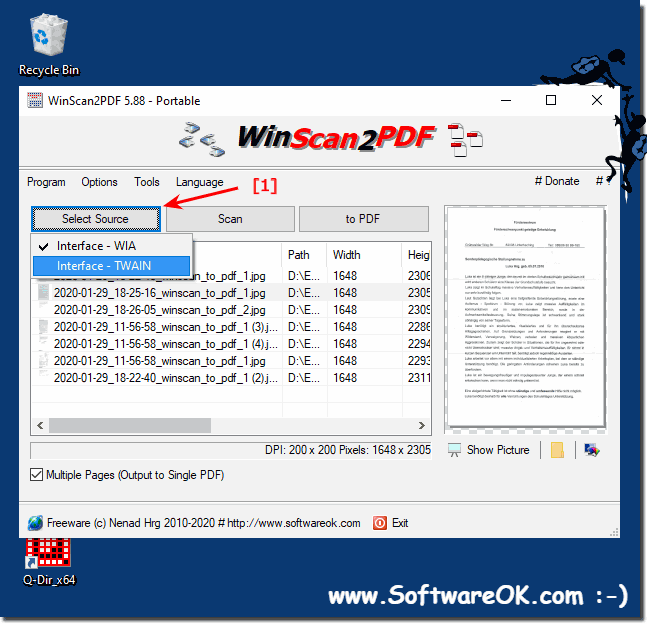 Typically, very large and overloaded software products are used to scan text or graphic elements. However, in some cases you only need to make a copy of the sheet (scan) when processing documents. Then e-mail it to the addressee or save it digitally on the local computer. And just for this purpose, the WinScan2PDF is perfect for creating a digital copy of the data in PDF format from the original sheet of paper in seconds.



FAQ 8: Updated on: 26 August 2023 17:55