The solution is easy to create a desktop shortcut in Windows 10 and 11 for a program or a APP! 


Content:




In

Windows 10

the fastest way is if you open the path of the folder or if you know the location of the program, e.g. for quick access or start from the

Windows 10 desktop

!  



1.) Simply create a program desktop shortcut via the Windows 10/11 search!
1. Find the program folder in this example "MS Internet Explorer" 

2. Use Windows 10 search (Windows+Q Key), open the file location

3. Then right-click on the program  icon and select the option: Send to desktop (create shortcut)

4. And you have an Internet Explorer icon on the Windows 10 desktop.

5. At this point you can also pin the program to Windows 10 Start or detach it from the Windows 10 task bar

(... see Image-1 Point 1 to 7)

PS:
You can also use the drag & drop function with the right mouse!





(Image-1) Create desktop shortcut in Windows 10!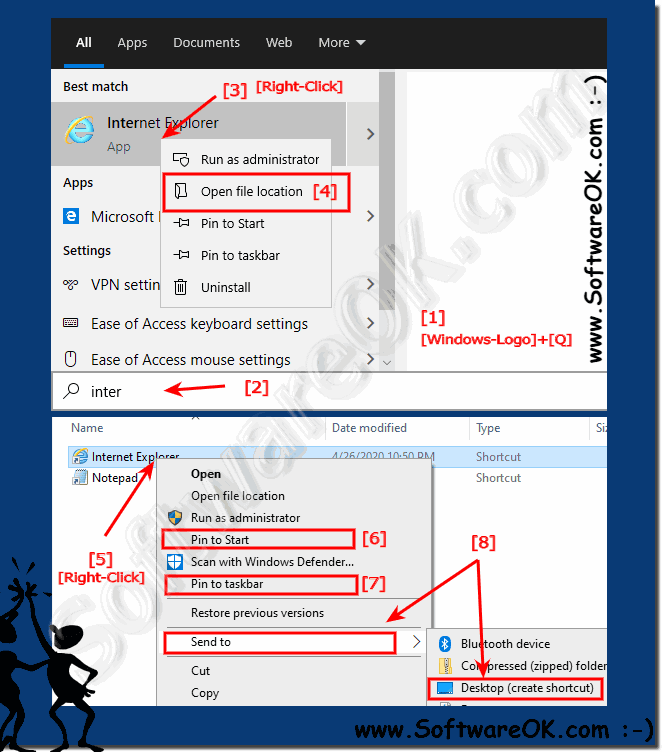 2.) Use the Task Manager to find the program path!

1. Use the key combination [CTRL + Shift + Esc] ,

2. to start the Windows 10 Task Manager.

3. In Task Manager, click More Details

4. and select the Processes tab.

5. In the list view, select the program from which you require the file directory.

4. Right-click and select

"Open file path"

.

( ... see image-2 points 1 to 5 )




Many Window users love this solution, because while a program is open under Windows 10, it is really far too easy to open the program path via the Task Manager and then use drag and drop to link it to the desktop.  






(Image-2) Open the location of a Program in Windows-10 via the Task-Manager!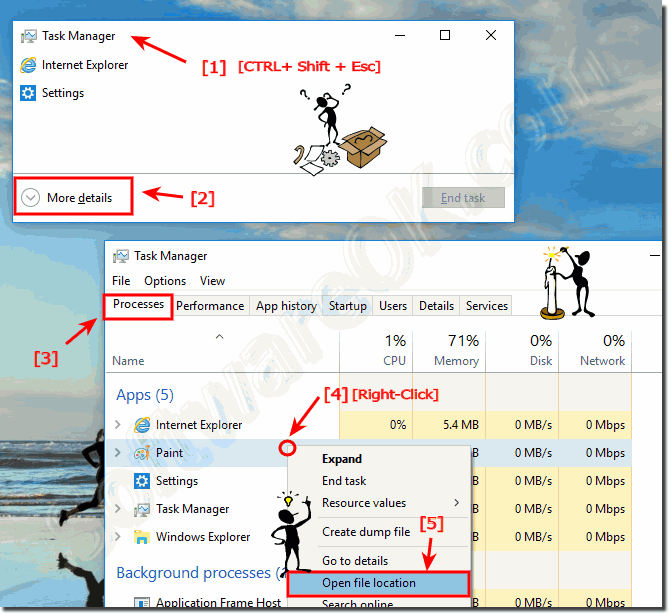 3.) What should I consider with regard to desktop shortcut?

With more than 100 desktop shortcuts, the system can become a bit sluggish, luckily there are tools that can save desktop shortcut positions without having to rearrange them. You should be careful with the desktop shortcut, otherwise you won't see the desktop background anymore , but the practical desktop buttons are just too comfortable to do without them. 

In ordinary use of desktop shortcuts but you can work much faster and desktop shortcuts give the Windows 10 desktop its own personalized touch, even when there is no touch screen is 
 



FAQ 49: Updated on: 25 August 2023 12:11