There are many Windows tools, but under Windows you simply look for the Windows 11 system-specific Windows tools and not the freeware tools, as is the case here!


Microsoft has not given up the classic system Windows tools from the old Windows OS, also known as Windows administration programs, which were previously listed in the start menu, under Windows 11, the powerful Windows tools can be found in the control panel. But you can also make it available as a desktop shortcut or start menu entry!





1.) Make the most important Windows tools available without detours!

1. Start the Windows 11 Control Panel as always

2. Enter "tools" as a search term, via F3 key easy and directly 

3. Create a shortcut by simply right-clicking on the Windows Tools on the desktop

4. Optionally also in Windows 11 Start 

5. If necessary move in the start menu using drag & drop or right-click and move it to the top

(... see Image-1 Point 1 to 8)

Continue with: ► ... Add more Windows tools!




(Image-1) The Windows tools in Windows 11!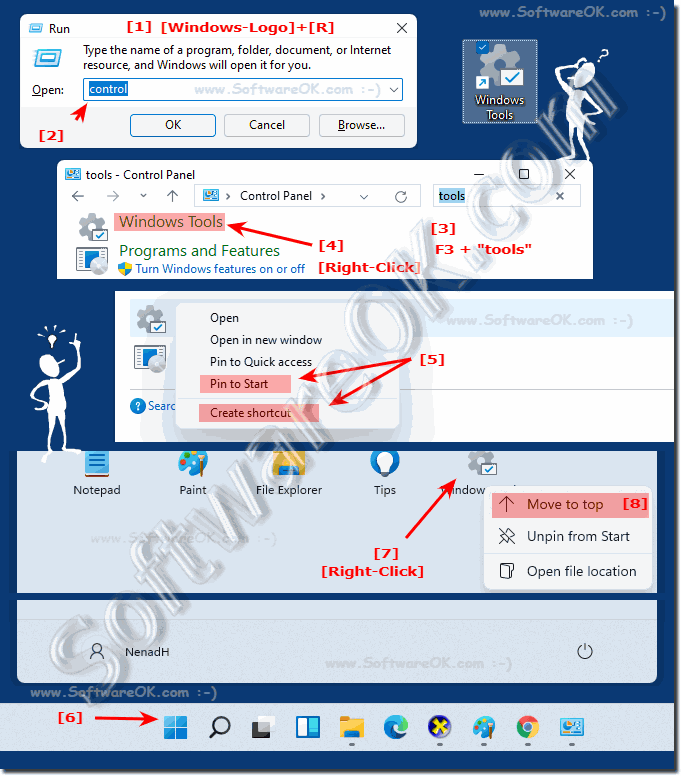 2.) What should I watch out for with so many Windows 11 tools?
There is not much to consider with the Windows tools, except that one should be careful with these powerful Windows system tools, without required system knowledge such as PowerShell, command prompt, ... one should be very careful!

But otherwise it is really an acceptable tool collection from Windows 11, which is not as extensive in Windows 11 Home as in the Pro version!

(... see Image-2)



| | |
| --- | --- |
| Surname | Comments |
| Task planning | Schedules operations to run automatically. |
| Computer management | Manages disks and allows you to manage local and other computers with additional tools. |
| Disk cleanup | Allows disk cleanup of unnecessary files. |
| services | Starts, stops and configures Windows services. |
| Print management | Manages local printers and remote print servers. |
| Event Viewer | Displays monitoring and troubleshooting messages from Windows and other programs. |
| Hard drive partitions |   |
| iSCSI initiator | Connect to remote iSCSI targets and configure the connection settings. |
| Component services | Manage COM + applications, COM and DCOM system configuration and Distributed Transaction Coordinator. |
| Defragment and optimize drives | Optimizes files and fragments on the volumes to make the computer faster and more efficient. |
| Performance monitoring | Diagnoses performance problems and collects performance data. |
| Local security policy | Used to display and change local security guidelines, such as user rights and monitoring guidelines. |
| ODBC Data Sources (32-bit) |   |
| ODBC data sources (64-bit) | Maintains information about ODBC data sources and drivers. |
| Registry editor | Registry editor |
| Resource monitor | Monitors the use and performance of the following resources in real time: CPU, disk, network, and memory. |
| begin |   |
| System information | Displays detailed information about the computer. |
| System configuration | Run advanced troubleshooting and system configuration |
| Recovery drive | Create a recovery drive |
| Windows Defender Firewall with Advanced Security | Configures policies that provide enhanced network security for Windows computers. |
| Windows memory diagnostics | Checks the computer for memory problems. |
(Image-2) Here are the Windows tools in Windows 11!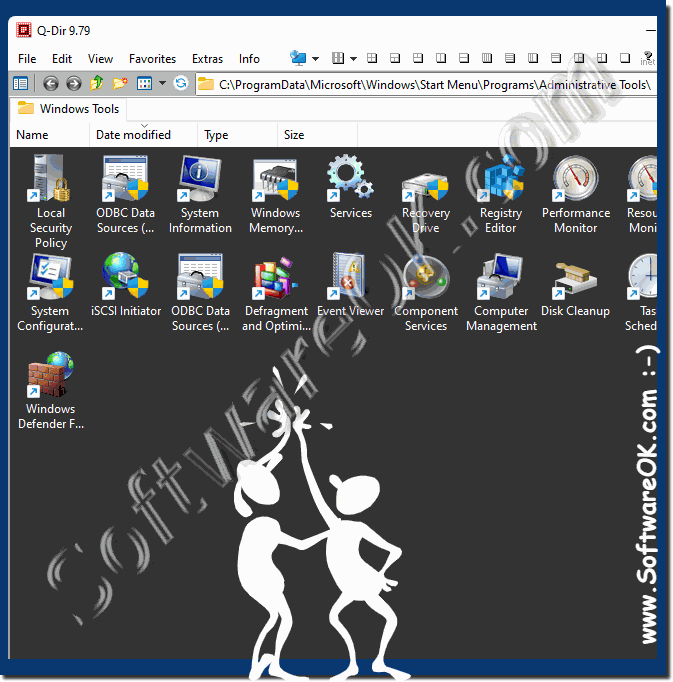 FAQ 176: Updated on: 26 August 2023 08:09