Under Windows 11 there are Explorer Tabs that you do not have to activate, they are automatically available from the September 2022 version of Windows 11 22H2!







In fact, the new file manager includes tabs, so Microsoft eliminates the need for external tabbed file explorers such as the ►

Quad Explorer for Windows

. Many other Explorer developers will probably be disappointed because this gigantic intrusion into file management ushers in a new era of file management in Microsoft Windows 11.



Contents:




1.) File Explorer under Windows 11 with tabs as an example!

Here is an example of Explorer Tabs in Dark Mode on Windows 11

But be careful!
However, the introduction of tabs in the Windows Insider Program obviously comes with a number of issues, Microsoft is working to solve them all with the help of Windows 11 builds.



Or Download Explorer: ►► 

 https://github.com/thebookisclosed/ViVe/releases 



(Image-1) Windows 11 and the Explorer Tabs!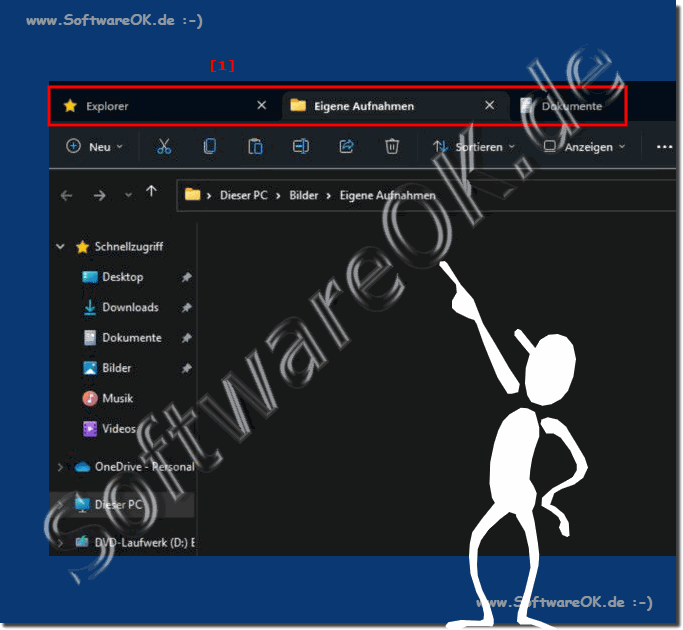 Windows File Explorer finally gets the tabs requested by many others. However, most users are already overwhelmed with an Explorer view and will have a hard time with the tabs, especially if they are not used to working and operating several windows at the same time. There are also other options in Windows 11, such as docking the windows on the sides of the desktop.








2.) At the same time, Microsoft fixes many bugs in File Explorer in Windows 11!

It is important for everyone Windows 11 to know that some issues causing crashes when trying to access certain folders will be fixed. In addition, it also fixes various crashes present when launching File Explorer on some systems. 
3.) More Tips on Dups Tabs on Windows!
Many users like to use the tabs or the tabs in different documents or even in File Explorer, the tabs do not always offer the advantage you would expect, because switching through with the Windows + Tab key or Alt key is sometimes advantageous, but here are more Tips on the tabs and tabs that might interest you.





FAQ 239: Updated on: 26 August 2023 07:10