The solution for Windows 10 is simple to
add Edge to the desktop and quick launch bar

as shortcut or start at Windows Login!


Is not for Windows 11!  



Content:
1.) Create a desktop shortcut for MS Edge! 
Right-click or hold down a blank area on your desktop and click New and Shortcut .  
Copy and paste the command: 
%windir%\explorer.exe shell:Appsfolder\Microsoft.MicrosoftEdge_8wekyb3d8bbwe!MicrosoftEdge
and just click on the button
"Next"
.  
(Image-1) Windows 10 Edge on the desktop as a shortcut!


For example, assign EDGE as the name  and then simply adjust the icon 
Just right-click on the shortcut you just created and select
"Properties"
►
"Change Icon"
Enter path the path for the icon is: 
%windir%\SystemApps\Microsoft.MicrosoftEdge_8wekyb3d8bbwe\MicrosoftEdge.exe  
and ENTER!  
(Image-2) Windows 10 Edge desktop ICON!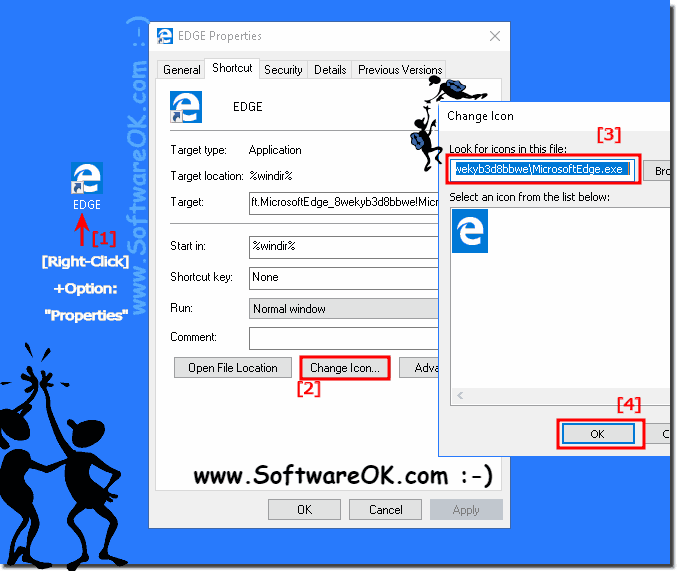 2.) Start Edge from the Quick Launch bar of the Window taskbar! 
After
creating a desktop shortcut for Edge Browser
, it's easy to make it available through the Quick Launch bar, which allows edge browsers to drag and drop a desktop shortcut onto the Quick Launch bar by simply dragging and dropping. (
... see Image-3
)
If you have not yet activated the Quick Launch bar under Windows 10, here is the description: 
It is very convenient to work with the Quick Launch bar under Windows 10, especially since there is no confusion between non-open and open applications, such as the Windows taskbar.  
See: ►►► 
Show program name in the Windows 10 taskbar
! 
(Image-3) Windows 10 Edge in quick launch bar!


3.) Automatically open / start the Edge Browser when logging in to Windows!
Open the startup folder shell:startup  the  edge browser  just drag and drop a desktop shortcut to the startup folder. Tip: Keep the Alt key pressed!
It is very pleasant if you often use the edge browser, with Windows 10 you save a lot of time if it is opened / started right after Windows start. Especially if you do not have a fast SSD under Windows 10 in use!
(Image-4) Run Edge at Login ergo at Windows 10 Start!