Search for compatibility mode under Windows 11/10, a frequently asked question from Windows users who want to use older software!
1.) The practical compatibility mode under Windows 10/11!
Yes, even Windows 10 and 11 has a compatibility mode to run older programs on Windows in compatibility mode!
1. Do a right click on the exe not shortcut and run in compatibility mode!
2. Here is the difference between x64 and x32 programs! 
(
... see Image-1 Point 1 and 2
)
(Image-1) Compatibility mode on Windows 10!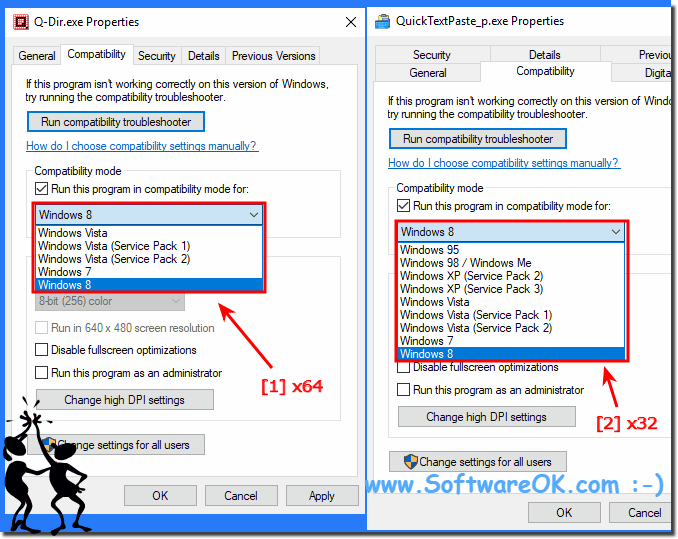 Helpful Info from  Microsoft (c)!
Most programs and applications developed for Windows 7 and 8, and 8.1 can also be used on Windows 10. However, some older programs may be limited or may not run at all. If a program developed for an earlier version of Windows does not run properly, you can change the compatibility settings for the program manually or by using program compatibility troubleshooting. If changing the settings does not solve the problem, visit the programmer's website to see if there may be an update available for the program.

2.) Why the compatibility mode on Windows 10 and MS Windows 11?
Most software built for previous versions of Windows runs well on Windows 10, but you may have some older apps that don't work or don't work at all with the new operating system. You can try to fix issues you experience when running these older desktop programs in Windows 10/11 by changing the Compatibility Mode settings. If you're still having problems, learn how to open a port in Windows Firewall.  
Windows has a built-in tool called Program Compatibility Troubleshooter that can fix compatibility issues automatically. If the troubleshooter doesn't resolve the issue, you can manually run an app in compatibility mode, which causes the app to run with the settings of a previous version of Windows. You can let the troubleshooter automatically search for apps that may be causing problems in Windows 10, or you can manually troubleshoot a specific app. 
3.) Is Compatibility Mode good for me on Windows 10 and 11?

Whether Compatibility Mode is right for you on Windows 10 and 11 depends on your specific needs. If you need to use older software and it doesn't work on Windows 10 and 11 without compatibility mode, this can be a good option. However, it is important to note that Compatibility Mode is not a perfect solution. It may not work for all older programs and can sometimes cause problems with other software you use.


Here are some pros and cons of using Compatibility Mode:
Pros:
Can help you run older programs that themselves are not compatible with Windows 10 and 11.
Relatively easy to use.
Free.
Cons:
May not work for all older programs.
Can sometimes cause problems with other software you use.
May slow down your computer's performance.
Overall, Compatibility Mode can be a useful tool for running older software on Windows 10 and 11. However, it is important to be aware of the possible disadvantages before using it.
Here are some tips for using Compatibility Mode:
First, try the latest version of Compatibility Mode. If that doesn't work, try older versions until you find one that works.
If you're having trouble running a program in compatibility mode, try running the Compatibility Troubleshooter.
If you continue to experience problems, search for help online or contact the program developer.

If you are unsure whether or not to use compatibility mode for a particular program, err on the side of caution and don't use it. If necessary, you can always try to activate it later.