The solution for activating and changing the sounds via the sound scheme in Windows-10!
It is very easy to adjust the Windows-10 sounds, please open the sound settings via the sound icon in the Windows 10 control panel.
Or directly from the Windows 10 Run dialog and the command: 
control /name Microsoft.Sound /page Sounds
To change sounds, click on a program event in the list and select a sound (sound event). Quite handy, the changes can be saved as a new sound scheme.
Good if you set one for morning and evening, because in the evening maybe a bit more sensitive to noise. Or the other way around ;-)!
See also: ►
Disable Windows 10 search indexing, customize
!
Change computer sounds for the Windows-10 events!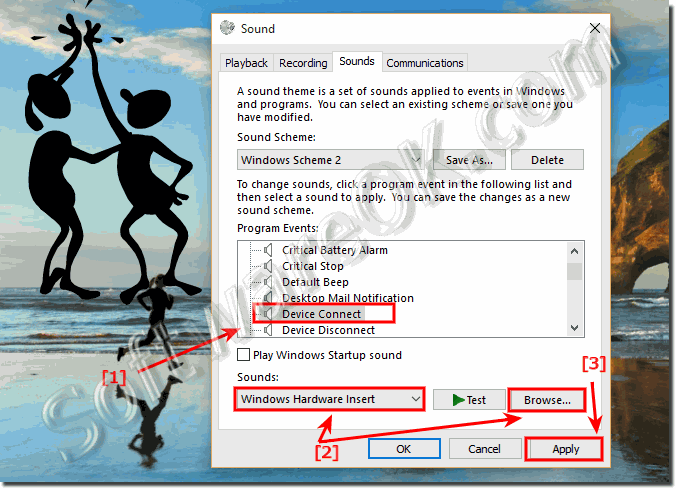 The W10 sound scheme includes sounds that play on Windows 10 and program events. You can choose an existing scheme or save a modified scheme.
In earlier versions of Windows, the user could change the system sounds in the "Control Panel" - "Sound" on the "Sounds" tab. This can be done the same way in Windows 10, but there is no "logging in to Windows," "quitting Windows," "shutting down Windows" in the list of available sounds.
►
Where is the start sound, logout, logon (activate) in Windows 10
?