Without IT expertise, printer properties can be also displayed on new Windows 11, 10 , .. and MS Server OS!
If you select the Print option in many programs, the MS Windows 10 offers one last option to spice up your printed page. You can use the Print dialog box shown here to send your work to any printer installed on your computer or on your network. Meanwhile, you can adjust the printer settings, select the paper quality, and select the number of pages and the number of copies you want to print, which usually end up in the
printer queue
first.
Accessing and customizing printer properties directly on Windows 10!
1. Please open the printer directory in Windows 10!
2. Shortcut Windows-Logo + R and the command "shell:PrintersFolder"
(PS: By right-clicking on the printer you can set the printer as the default printer)
3. And open the printer properties / printer settings directly!
(
... see Image-1 Point 1 to 5
)
Tip:
The Printer Properties dialog box opens with all relevant options for the printer itself, as well as for updating the printer driver, most applications, APPs, desktop programs are then also use the standard settings that you have defined, unless the program already has specific settings for the print job, such as for the 
MS Office
products.
PS: Here in the example the
Windows 10 problem printer HP-LaserJet IV
!  
(Image-1) View printer properties on Windows 10!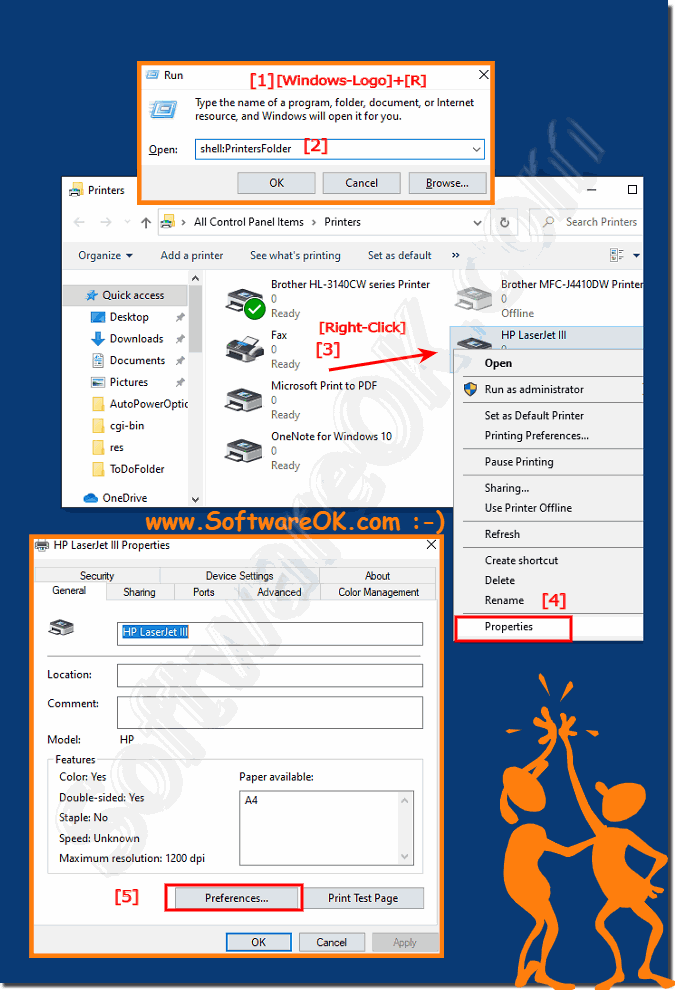 Info:


In Printer Settings: Click this button to display a dialog box like the one shown here, where you can select options that are specific to your own printer model. In the Print Settings dialog box, you can usually select different types of paper, choose between color and black and white, adjust print quality, and make last-minute page layout corrections.