Under Windows 10 and 11 you can
print a document as a PDF from any application

thanks to the integrated "Print to PDF" function!

Everyone knows the practical old

XPS printer

: you no longer have to use other solutions or install a third-party application like the practical tool

WinScan2PDF

. Especially those who like to use

the free writing program

under Windows 10 are happy to be able to convert it to PDF quickly!

 

Content:
1.) Printing under Windows 11/10 via the integrated PDF printer driver! 
1. Open one of
your documents
2. Go to Print 
3. Select the
"Microsoft Print to PDF"
from
4. Assign a simple PDF file name
(
... see Image-1 Point 1 to 4
)
PS:
If the PDF printer driver integrated in Windows 10 is not installed / activated, you can do this quite easily, because it can also be used for MS Office documents to save Excel, Powerpoint, or MS Word documents as PDF files is very practical, especially if you use other or older Office products like Office 2003 or older!
►► 
Install the integrated PDF printer driver in Windows 10!
(Image-1) Test PDF print under Windows 10 or save as PDF!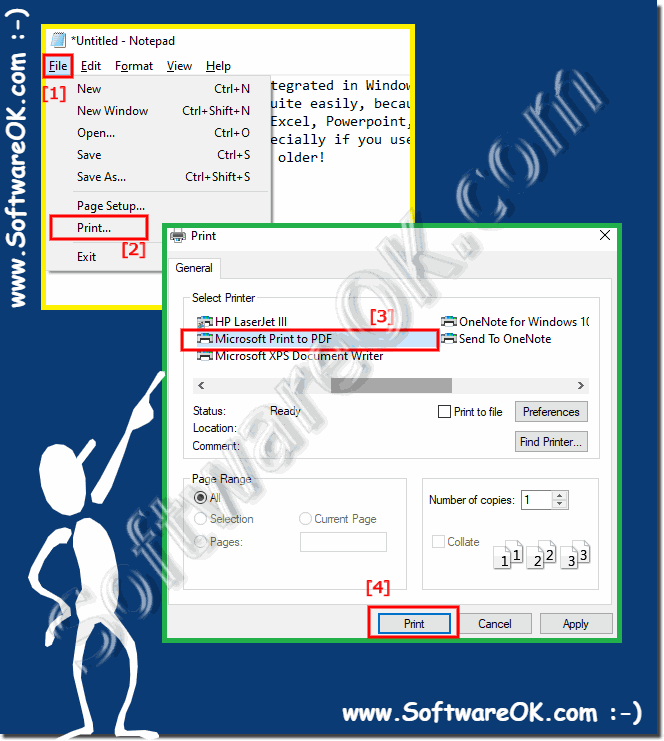 Info:
Open every document you want to print and search in a PDF file and open the Print dialog box in the application, this may vary from program to program, but has nothing to do with PDF printing. Where this is, of course, depends on the program. However, you can  use this PDF printing function via
File
>
Print
, some programs also have a
printer icon
that you can simply click on.

2.) Why is it good to print documents as PDF under MS Windows 11/10? 
Printing to PDF can be a great way to save a document to your computer, especially if you don't have ready access to a printer. If you have Windows, you know the process wasn't always seamless. In Windows 10, printing to PDF should be one of your standard features on your computer so that it is easily accessible.
The PDF document can be opened on almost any device, the PDF is a standardized and widespread format, it was developed by Adobe, there are now a large number of programs, apps, ... with which PDF files can be opened, as well as web browsers or 
Adobe's official Acrobat Reader
, and even many 
text editors
 can open it!